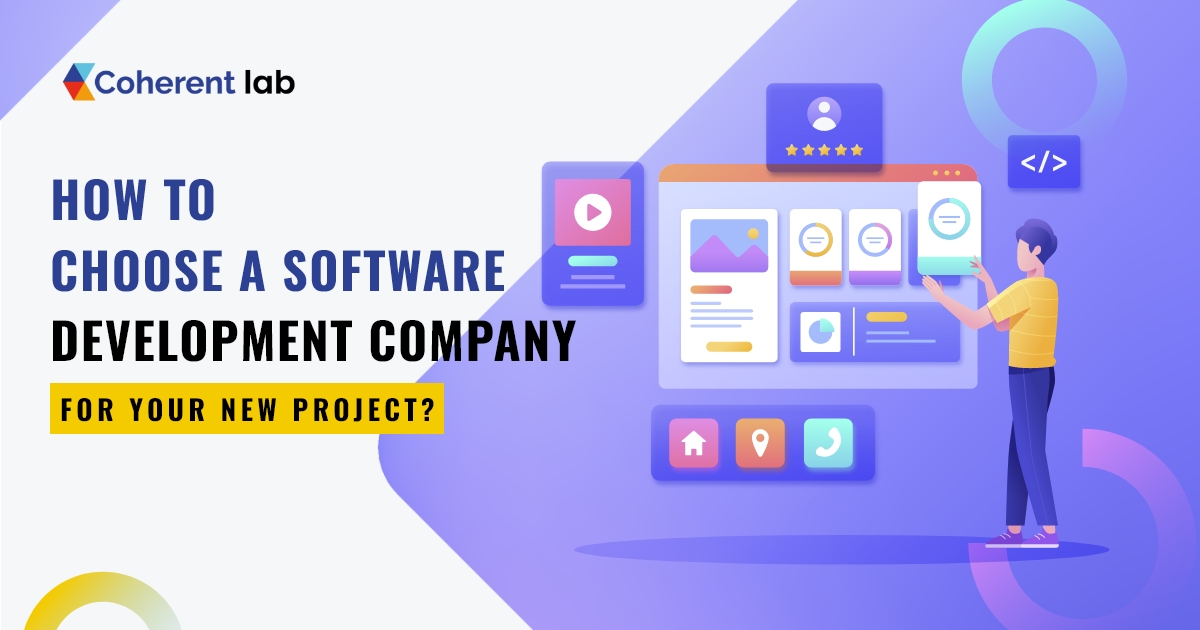 In the present scenario, the demand for technology is surging at a fast pace. The world is getting technologically advanced, which makes companies' hire skilled developers on a constant rise. Business owners often seem to be confused when it comes to how to choose a software development company that provides them value and quality services. Although, choosing the right software partner is a tedious task as it requires deciding the appropriate database, front-end applications, picking a scalable framework, and so on.
The major problem with standard software products is there is no product that fits all business needs; this is the reason software development companies are in demand which offers all services you need. Let's not beat around the bush, if you're here to do something innovative that generates higher ROI, then must know how to choose a software development company and hire android developers to accomplish any specific project.
Key Considerations Prior to Choose Software Development Company Are:
Define your objectives, resources, and timeframe – Before hiring any software development company, it is important for you to clearly define business objectives that match your business requirements. What issues do you want to resolve? What solutions will help you to achieve business goals? To do so, prepare a list of key goals against the solutions and also explain how it will manage each of them. Prepare a realistic timeframe for your project and plan all the reasons going to be allocated. Thus, hiring a software development company with that much info assists in project accomplishment.
Start by getting referrals – You can reach out to people who know the best software development company and ask for referrals. This will enable to track the process of how to choose a software development company, with getting honest feedback about their work.
Check out the company's portfolio – It is important for you to check out what the company offers, with this you will get more valuable information. By reviewing a company's profile, you can understand what type of services they offer and what type of applications they have built. With this, you can decide whether or not the company has the expertise and know-how to develop the solutions you're looking for. Usually, it has been overview that companies that have little experience in custom software development may not be familiar with upcoming challenges that surface during SDLC as well as specificity in building custom software businesses like yours.
Check out the technology stack of the company – It doesn't matter whether you are looking for a young development team or a seasoned software company by having a great experience. All you need is a partner who follows the tech industry closely and works with the latest tools and technologies. A company that is open to adopting cutting-edge development processes, learning emerging technologies and skills as well as knows to take advantage of battle-tested approaches like – agile or scrum. Therefore, technologies play a crucial role in deciding than ever before how to choose a Software Development Company; it enables you to future-proof the automation of the delivery process by using different integration tools.
Deliberate the geographical location –You might get tempted to hire a software development company or team just because of its cheap services. When it comes to software development, cheap is always risky thus instead of costs, you need to focus on quality and value. Teaming up with a software development company located in a remote country has entirely different cultures, languages,s, and customs.
Consider Nearshoring or Offshoring – There are several projects delivered successfully, regardless of where is the location of the Software Development Company because the location of your contractor also matters, often where there are specific business and project requirements. In cities like London, hiring your own in-house ios developers will costs too high in comparison with outsourcing the project. In this manner, the concept of Nearshoring and Offshoring has risen that helps you in resolving the issue of how to choose a software development company. Basically, offshoring means outsourcing your operations from a company located at another location, usually overseas whereas nearshoring means moving into nearby countries for IT activities of software development.
Guage for the talent pool – While hiring a software development company, it is important for you to know the experience of developers in specific technology or domain. It makes you think about whether or not the company is able to fulfill the project requirements in an effective manner. Do you know that you can also ask for CVs of the developers or take interviews who are going to work on your project? It is vital to handover the project to developers who are well-skilled and great experience in a specific technology.
Compare offers – During your hunt of how to choose a software development company, you may look for rates. It is common when someone sees lower rates; you might be tempted for it. And even sometimes, you can find the rarest of gems with quality work. Although, we know that there is no such thing as good, cheap, and fast at the same time. Hence, if you just go for cheap, you may spend much more than you have planned for earlier, why? Reasons are given below –
As if someone doesn't know how to work, it may increase the project timeline automatically.
You may spend more time fixing errors.
Hence, it is important to compare the cost of different companies and I want to recommend going for quality instead of cost.
Benefits of Choosing a Software Development Company?
In this competitive era, the demand for software development companies is increasing at a fast pace. The reason behind this is great flexibility which allows companies to reform business solutions as per the specific needs and requirements. Many businesses are dealing with the problem of how to choose a software development company to accomplish projects in the desired manner. It will be beneficial when you hire software development companies to meet daily challenges, such as –
Custom software development companies enable you to tailor the exact needs and specifications It will offer you to provide all the functionalities required to reach peak productivity.
They understand your business needs and apply the latest tools and technologies to make it more profitable and effective.
A combination of technical excellence and great customer service leads to value for money.
Value creativity and collaboration signifies that ideas are shared, communicated and everyone contributes individually to accomplish a common goal or objective.
Tailor new teams for each new project, it helps in making the best possible combination of skills, knowledge, and experience in order to meet your needs and provide high-quality solutions.
Conclusion
With the help of the aforementioned tips, you can choose the best software development company for your business. How your future application or software will run or looks like, depends on the skills and experience of dedicated dot net developers who involved in its development process. In this relation, it is imperative to choose the right software development company to attain desired business goals and objectives so that customers' can experience bug-free, optimal use of technology and highly performant products. One last thing to be remembered in the process of how of choosing a software development company is its openness and staff flexibility. Ensure that all the process is transparent and unforced from the initial stage of the project. Hence, working with a software development company assists to get intelligent solutions in order to meet client's emerging demands. This collaborative working style contributes to develop effective and robust projects as well as gain a high competitive edge in turn.