Inquire Now
Why choose us?
Many companies and institutes offer training in Android Development in Jaipur but here are some of the reasons why you should choose us.

Excellent Mentors
Get outstanding training and learn various tips from the mentors.

Guaranteed Job Placement
We guarantee you a successful job placement in the IT industry with our training program.

Live Projects
Get the chance to work on live projects with our team.

Result-Oriented
Our training program is focused on bringing valuable results from your hard work.
Android App Development Tools You Will Expertise
A good understanding of the development tools is highly significant to build an outstanding application. We will train you in the following development tools during the internship program.

Intellij IDEA

Eclipse

Flutter

Firebase

Android Studio
Benefits of Android Development
Android is the most used mobile operating system in the world. This makes the profession of an Android Developer demanding. There are so many benefits of being an Android Developer.
An Android Developer has the freedom and flexibility to work from anywhere. All you need is a good computer device with the required software.
Android Apps have a huge market base which makes the profile of an android developer highly successful and promising.
You can select any niche of your own based on your interest and skills.
There is also a very good option for android developers for freelancing and managing a good work-life balance.
Android Development is a nicely paid career with a worldwide increasing demand.
Why Join Our Android Development Internship in Jaipur?

Quick Learning
Our team can help you learn the process of creating an android app in a short time with the help of some amazing tips.

Expert Guidance
This will help you learn from the best and their experience can help you avoid several blunders.

Freelancing Option
You can also practice freelancing by learning android app development from our team.

Character Development
We not only focus on the main goal of training you in developing amazing android apps but also on various other aspects of your character building.
When you join our Android Development Internship Program in Jaipur, you not only learn app development but also various aspects of working in the corporate world. You learn to give quality applications and how to cooperate with other departments.
By joining our Internship Program can build a strong career in Android Development.
Skills You Will Gain
An internship is not only for getting a job, but it also teaches you a lot of things. Following are certain skills that you can learn in our internship program.
Proficiency in various Development Tools
App Analysis
Backend Computing
Product Management
Communication
Coding
App Deployment
Teamwork
Knowledge of Web Development Languages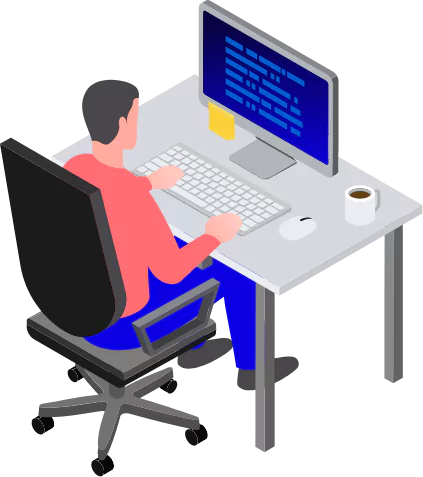 What will you learn in our Android Development Internship?
There is a set of things in which a person is trained during an android development course. We have a skilled team to help you gain all of that knowledge under our expert supervision.
Let's have a look at the things you will learn during our android development internship program.
Mobile App Design
UX/UI
Android Framework
API Implementation
Database Management
Android Lifecycle
Frequently Asked Questions
Android Development is one of the rapidly growing job profiles and its demand is constantly increasing in the market.
Yes, Android Development is one of the highly demanding professions. Companies need developers with excellent skills and when you have that, they will pay you handsomely.
Android developers are responsible for building applications for the devices which support the Android operating system. They also have to make the apps compatible with multiple versions of Android.
Learning Android App Development can be challenging but not as difficult as people think it to be. It all depends on the learning capabilities of the trainee.