Inquire Now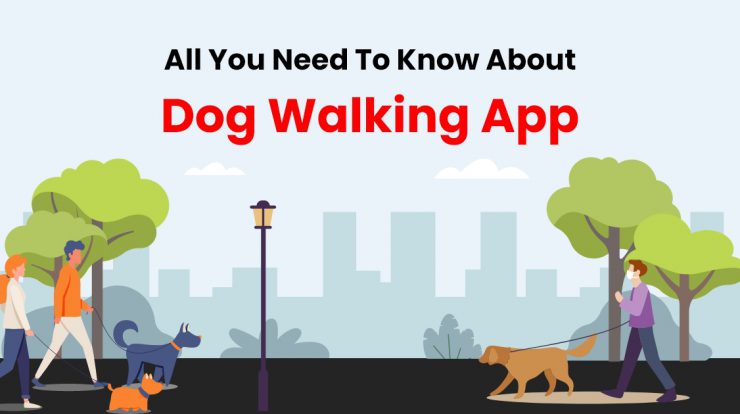 Dog walking services have an enormous demand since the bulk of the people within the world have dogs as pets and treat them like family. Dog caring isn't a simple job and controlling and taking them for a walk, especially for people in their old ages, is very difficult. With the current socio-economic conditions that are prevalent everywhere, dog walking has become a huge service. With the demand for dog walking shooting up, so ha the need for technology to manage has shot up today
Dog Walking apps are in huge demand, and so is dog walking app development. A dog walking app may be developed in any of the emerging technologies that are available, you may hire android developers, iOS developers, or even .NET Developers to build your own dog walking App. But there are a few things that you should know about dog walking app development.
How Does A Dog Walking App Work?
The primary objective of a dog walking app is to schedule and manage the walking of your beloved pet dog. A good dog walking app in addition to the basic functionality of dog walking, allows pet owners to incorporate detailed notes about their dogs, mainly on vets and medications, harnesses, collars, etc. A dog walking app helps dog walkers to make good earnings and also spend time hanging out with the dogs. Therefore, dog walking app development is often enterprise mobile app ideas for both dog walkers and pet owners.
Current Valuation Of Dog Walking Apps
According to a survey report, the typical industry growth of dog walking app development has increased significantly between 2015 and 2020. Reports say that people own more pets than at any time in history. If you make a survey of the quantity that the pet owners spend on looking after the care of their dogs and other relevant services and products you will find it is going up to billions. So keeping a track of these factors the prophecy of dog walking services for the next five years is sure to increase. Thus the demand for dog walking app development will grow as well.
How to Create A Dog Walking App?
To create a dog walking app, you would like to follow certain steps and implement them with great effort. The subsequent steps are often an easy and step-by-step guide towards dog walking app development.
Develop a solid business plan
Knowledge of the processes involving dog walking is very important before you make a solid business plan before you plan to develop a dog walking app. It is always necessary to keep track of your clients needs and then make the advancement into app development. Also acquire suggestions from the industry specialists as well as other apps in the market with a shared economy like the cab or bike booking apps, food delivery, grocery delivery apps etc.
Estimation of your potential earnings and revenue in advance
Making pre calculations of the revenue and potential earnings after the dog walking app goes live is actually smart. By doing so you will be prepared to manage the profits as well the losses in good and bad times. If you are running the whole operation on your own then you must consider the general costs of the dog walking app development, administering your clientele, filing of licenses, trademarks & registration of the mobile app.
Diversification and employees
If you would like to grow online, consider the expenses you ought to be bearing in terms of hiring new employees, since branching out are often a touch hefty but beneficial also. Moreover, logging on involves more expenses for promotions and publicity. Therefore be able to accept such expenses you'll incur and plan for expansions.
Marketing Research
This plays the foremost role in any dog walking app development for that case. You ought to do intensive research on the present competition both locally and nationally. Some questions mentioned here can assist you with the simplest research.
Are there competitors existing in the market? If yes, make an attempt to understand how they manage and operate their apps successfully.
Also, find out how much your competitor charges their clients for their dog walking services?
Is there any contract that is to be signed? Or is it a one-time service that is offered?
How does your competitor operate? Do they have an office locally or do they operate online across locations?
What techniques did your competitors follow to succeed in their target audience?
What promotional strategies did they follow?
Do they have any additional services like dog cleaning or dog sitting after walking sessions?
How better are the apps offered by your competitors and what are the services that you can offer?
Which platforms are your competitors using to promote their brand/app?
Launch your marketing campaigns
Once you've got crystal clear information and analysis of how your competitors are performing within the market and what features they need within the app, it's some time to create buyer personas for your app and specialize in your audience considering several factors which will influence them towards your dog walking app.
Organize third-party-based social media campaigns since the dog walking app development might be a standard requirement to people, and you never know how many of them even have dogs.
Publish Blogs and make extensive use of the Social Media
Make use of Social Media to the fullest, connecting to prospective customers and dog Walking Service providers. Make some good use of social media. Share and upload the videos and photos of services offered to the potential clients by your dog walking app and thus make user engagement. These are the straightforward steps that you simply can follow to make a dog walking app, but confirm it doesn't fail while implementing any of the processes.
Must-Have Features of a Dog Walking App
Dog walking services are very common as well as popular too because a huge portion of the total population owns a dog as their pet. The need for dog walking app development comes in a situation when pet owners leave their house for a few days and nobody is out there to take care of their dogs. If you're a developer and need to make a dog walking app, these are the must-have features you ought to add to your app.
GPS tracking
This feature is a superb option for dog owners to trace their dogs while walking. Owners can rest assured by tracking the movement of their dog right from any remote location. Additionally, the dog's live walk feature in the app, adds more value to the product.
Login with social media
Make the sign-in process too simple and smooth for your users, in order that they don't spend much time with the login. It is important to enable a high level of security to the personal details since personal data is more sensitive than other factors. Provide two flexible login options, one through a social media account and the other with their email credentials.
In-app payment
You should be ready to provide multiple payment options like MasterCard, Visa, Rupay, open-end credit, PayPal, Net Banking, bank wire, and wallet payments. The objective is to make the payment process convenient and straightforward for users to pay for the services as per the option available to them. This feature gives both pet owners and pet sitters a high level of convenience.
In-app message
For a Dog walking service, communication is a must. The in-app message feature enables this communication between the Dog Walker and Dog Owner. It becomes a simple platform for Dog Owners to clarify their doubts and ask any questions. This may include things like mentioning their dog's behavior and maybe about the service as well. All this can even be done before confirming a Dog Walker.
User Feedback
Having the review and rating option is a wonderful feature. The review and rating option lets you have genuine feedback and thus lets others know about the app and use it. By having the above features your dog walking app is ought to make a mark over the prevailing apps in the market. Also, when it involves dog walking app development there are few other features like searching for a dog walker, proper security to dogs, and others that must also be included.
Core Components of Dog Walking App
Customer's App: Here are a couple of vital features that each head walking app includes under its customer's component.
Search & Filters: A very important feature that lets dog owners find the Dog Walker of their choice and connect to them.
Profile: Dog owners should be able to update their profile mentioning their address, and preferences. Also, they should be able to update their dog's profile mentioning their details, likings, habits, and preferences.
Option to Upload Photos: Dog owners should be able to upload their dog's photo and their own photo.
Tracking: The live tracking feature, that will enable the dog owner to stay updated on their dog's location.
Reports: Different reports, like the financial reports etc.
These are the bare minimum features that the Customer's App should have, you may also add niche features to make your app stand out in the market.
Dog Walker's App
Here are a few top features that every dog walking app must have in its Dog Walker's section.
Profile Creation: A very important option, whereby Dog Walkers can update their profiles along with their qualifications and credentials.
Accept/Reject Option: Dog Walker may choose to provide service through this feature.
Scheduling Option: Dog Walker may choose to schedule through this feature.
The main objective with the Dog Walker's App is to make the communication and the transaction smoother, you should always be looking out for features that will make so.
Admin Section
Here are the lists that each dog walking app has under its Admin component
Customer & Walker Management: The most important feature, this enables the admin to manage both the Dog Walker and the Dog Owners who are registered into the system.
Job Allocating Settings: Admins would be able to manage the job allocations and may also automate the job allocation process.
Viewing Reports/Reviews: The most important section in the Admin area. It will give the Admin a peek into the performance of the app.
Payment Management: With new payment options coming up very often, this feature will enable the admin to manage between payment modes.
Refer to your competitor apps and make a dog walking app with more unique features that serve quite your competitor apps. Anyhow, you ought to perform intensive research upon several factors which will add value/impact your dog walking service business then make sure about features to be included.
How Much Does It Cost to Form a Dog Walking App?
The time and price involved in dog walking app development totally depend upon the customized features you would like to implement within the dog walking app. If you propose easy app development with minimal features, it's going to not take much time. But considering this competition, if you would like to feature more customized features, then it's going to take up to three or four months solid.
For example, you'll calculate the dog walking app development cost as below: App Development time in hours X hourly charges of the developer = development cost of the dog walking app. There are several ways to develop an app like dog walking. Moreover, there are different dog walking services' models available within the market, sort of a clone app, which you'll make use of. Otherwise, you'll hire android developers, iOS developers, or even .NET Developers dedicated for your dog walking app development and obtain it done. you'll also approach an app development company with prior experience in relevance.
Depending on your budget, you'll prefer any suitable app development method.
Conclusion
The dog walking app development is on the brighter side since many pet lovers find it difficult to require care of their dogs. In a way, it benefits dog walkers by creating employment at good earnings, and at an equivalent time, the pet owners also. If you've got plans to make a dog walking app after reading this blog, get in-tuned with an expert developer/company that has already worked thereon.