Inquire Now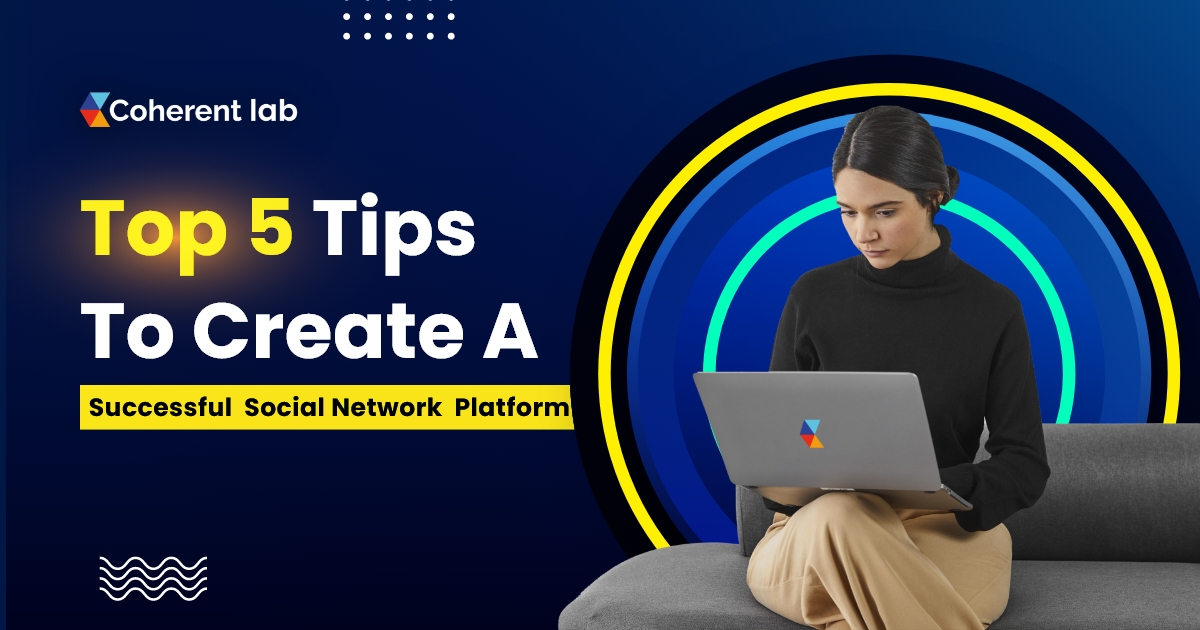 Social Media Platform gains much popularity these days. Due to the growth of digital transformation and networking booming many now use social network platforms for many reasons. It also grows the concept of virtual medium. Now maximum organizations prefer virtual medium. It is also undoubtedly because of the pandemic situation and the effect of the lockdown situation. Due to the lockdown period, we need to stay in our homes. We don't do social meetings or anything like that.
It starts the concept of virtual media. Both in the personal and organizational sector we are more intended on virtual platform. So, many organizations have found neo-marketing and revenue earning concepts via social networking portal development. Social network platforms have changed the concept of marketing ethics and the private life of humans. On the other hand, in technical terms, it starts the new developing networking in the techno-business sector.
What is a Social Media Network Portal & Development?
In technical terms, we can describe social media as an internet-based platform. It is mainly used on mobile interfaces. The main concept of social media networks is to promote the business or concept or share the opinion. There are so many famous social media network platforms available. For example, we can say Facebook, Twitter, Pinterest, etc. These all are very famous and effective social media platforms. Millions of people use this platform and promote their products or expand their market.
Reasons that social networking platform development Gained Popularity?
There are various reasons for the growing demand for social networking portals development. The following discussion can help you to understand the reasons.
Revenue and Business Growth: Due to the Covid-19 situation, many organizations have faced financial and economical debacles. The new concept of Social Networking Portal Development provides fresh air to many technology companies. Due to the demand for these kinds of platforms, many organizations have started developing these kinds of networks. It opens a new business arena and revenue earning sector for them. So, they start developing a social networking portal development.
Cost-Effective: Many organizations find social network portals a fantastic option as their marketplace. They can promote their business, products, or even view through the social network portal. They find the platform less expensive than the traditional way of marketing strategies. So, they are interested in developing their own social networking portal.
The Service Authority: In recent times service authority decides the business communication structure. Many organizations are now offering personalized services to their clients. A recent example of Amazon has proven the concept of service authority. They now start same-day delivery. A few years earlier they had surveyed social media networks. The survey on service they are offering to the clients. Many clients want same-day delivery and Amazon makes it possible. Social network platforms have given this empowerment to the clients and the organizations that they can set their goals. It is only possible for this platform.
Vast Communication: This new platform has given a new concept of the communication era. Now you don't need to wait to publish your opinion or comment. Putting your opinion on the social space is much easier than earlier. It changes the whole communication system, business pattern, and ideas of networking concepts.
Make Your Brand: The social networking portal development is also growing and it can help to establish your brand. Many organizations now start finding their niche over here. They publish their concept, promote their company and products, interact with the clients, preview and review products to establish their brands. So, the popularity of social networking portal development gains its way for many organizations. Now the question will arise how to create a successful social network platform. There are many steps involved in the process. As an organization or entrepreneur, you need to follow certain steps. Following are the brief discussions about the process involved in social networking portal development.
Step 1- Address the Right Niche Defining the target audience and target or appropriately following them is the first step. There are lots of angular js development tools available in the market that help the organization attract customers or start networking with them. The digital marketing tools or social networking platform will empower you to communicate with your niche at the right time. You can understand the above concept by using the following methods.
Nowadays digital advertisement is one of the best options that can help to attract your clients. As an example, you can name Google ads. Recently Google ads offer huge options to the organizations to target their audience in the large sector. Activate a couple of paid advertisements for a certain length of time. Use extraordinary catchy content for every advertisement and notice what works satisfactorily. Through checking out find out what offers the satisfactory result and awareness of all of your advertising finances there. Create your own email database. This is another option to attract your clients via email marketing.
In the present situation, you may find many tools that lead generation offers to you. This will give you the proper guidelines and gear that could assist in getting your email base. After you created your applicable database, put together attractive templates and use them for newsletters. Don't fear in case you aren't skilled with email advertising and marketing. While different network portals will point out your social media posts you need to react to them. Here remark means positive remarks. Your first job will be to accumulate all information and act immediately. You need to engage them as your part. Start communication with them and try to start up a social media community for better results. Request for suitable content from them. And if they do, respond to them properly. Request them to read your own blog content and ask for comments. Your target audience will always like this communication and care.
Write down your weblog, guest blog and inform people about your own social media platform. The audience always likes to connect with the informative content and support information on the topic. Aware of their preferences and offer them fascinating information in the long run. You can run blog content and influence them to write content on your social media platform. Many reputed organizations have influenced people with this strategy and now they are the most successful organization in the industry. Presently they have many visitors, communicators who are engaged with them. You may offer some monetary benefit to them for their content.
Step 2- Address Your Status Update Status updates are crucial. Every social media person desires to express their emotions and minds freely each time of the day. You want to lay out the suitable equipment to make the status updates a satisfying and clean experience. Even though Facebook popularized the activity stream, Twitter made the fame update another mainstream aspect of social media sites. Status updates are exceedingly addicting. People are straight away hooked. If this selection isn't consumer-pleasant and easy to use they'll abandon your social media platform right away.
It absolutely relies upon the values your social media is built on. Twitter made a first-rate flow by restricting status updates to one hundred forty characters. The android developers had been thankful for that decision. It made their work a lot easier. Of course, you need to ensure to feature remarks including alternatives at the status updates. In different words, communication with different customers is everything. There are plenty of open-source micro-blogging systems you could use for growing quality status update features. Laconi.ca or Identi.ca is best for it. If you use a content material control machine like Joomla, it is simple to make a content type that has a constrained quantity of characters.
Step 3- Follow the Proper Structure Social networking portal development must have a structural part. You need to work on the growth development of the portal. This is a very important task to enable the tool adequately. The basic rule is to tie up between your webpage and social media networking platform because it is very essential to engage your customers via your social media and engage them over your website as well. You need to apply certain norms for these. You need to incorporate these rules or make them your success pillars for the long run of your social media network. It will give your social networking portal development more boosts.
Security - Security and privacy are two important features of your social media network. Always offer your customers a safe and comfort zone. So, arrange a tight security system that gives your social media more strength to your social medium. This security system will help your social medium from data leaks and save other important data.
Customer service - Customer service is one of the important matters for your social networking portal development. Without proper customer service, you can't engage your customer. Due to this reason, I always try to tie up with the hosting entity . . It will help to deal with technical issues and other awful issues as well.
Scalability - While you are involved with the development of part of your social networking portal you have to check out your growth ratio of the development. Social media networks have huge demand. People want to engage with it. So, scalability is an important factor. Makeup with a huge plan. Make the growth strategy. Try to expand the feasibility of the social media network that will give you extreme growth and pace to achieve your goal and success.
Step 4- Design Structure Make sure at the time of social media networking portal development you get a gorgeous and fantastic design. The design has to be catchy. The design structure is so important that you can catch your targeted niche anytime. For example, you can take the example of Facebook, Twitter, etc. You understand that their design quality is unique and a sign of a masterpiece. But at the same time, the design is very simple. Another part is its activity stream. Make your social network portal get the best activity stream. This totally depends on the development's success. If you have ill development ideas it is obvious your activity stream will be ruined. The design is the main point that will help to launch your social network. So, for a better experience, your hiring web PHP developers can use Drupal or Joomla activity stream methods to get the best activity stream. There are a few structures or options you have to follow for a better design structure.
Chat options and features- You must add chat options and their salient features. Offering chat options is a very important factor for your social media networks portal development. It will offer users a better and vivid experience on the portal.
Comment Section Areas- Also provides comment section areas. It will engage your clients with you all the information and feed you. It will help them to communicate and you can engage with them.
Social Groups options- Social group option is another key important factor to develop your social networking portal. Social groups can engage more people on your platform.
Connect Buttons- Connect buttons are another important factor to develop the social media network portal.
News Feed design- Make your news feed design in a special way that everybody finds interest in. Without a proper news feed, the development work will not be successful. So, take care of your news feed design at the time of development.
Engagement Buttons- The engagement button is another vital issue for the outstanding social media network portal. It will give your portal more fascination for people engagement. So, set up an engagement button to develop the best social media network for a successful portal. Use simple UX design. At the time of development, you have to ensure the design should be user-friendly, eye-centric, and have a fantastic user experience. A user-friendly portal will give you more user experience than you would have been thinking. Always remember users are now choosier and they accept only user-friendly portals. Due to the mobile interface, it becomes more important. For the all above needs you must think about budget and technical engagement. To develop this kind of social media network you need to be prepared for a huge investment. Because while developing this structure it needs architecture and that will be only successful if you have a handsome budget.
Step 5- Promote Effectively Promote your social network portal in a very healthy manner. After the development work promotion part is very important. You need to promote your networking portal aggressively. Follow a structural marketing method. At the time of promotion put attention, interest, desire, and proper action for its successful promotion. Follow certain marketing activities that will impress your target audience. Implement the best digital marketing strategy that will enhance your portal among your users. In this digital transformation era, digital promotion is the best way to promote your social networking portal. You can follow certain methods that can also help you in the promotion.
Sell Digital Products- Selling digital products can also boost your promotion idea. You can sell many items like software, games, mobile applications, e-books, etc. If you are comfortable you can also sell physical goods via your portal. It will help you earn more money, generate revenue, and engage your customers with your portal.
Freelance services- You can engage your customer by offering them a free consultation, training, etc. You can also start free coaching on design, digital marketing courses or business communication, etc. This will help to get acknowledgement from your audience. Besides this, you can also connect them with your social networking portal.
Advertising on your platform – Allow advertising on your social networking platform. There are so many options that can be helpful to your promotion tool. You can use sponsorship, brand mention advertisements, banners, etc.
Event organizing: Organize social media to promote and engage your targeted audience. Due to the pandemic situation now organizations are organizing virtual events. The facility of the virtual event is that it can engage a large audience. So, you can reach many people at one time.
Think about Passive Income – Anything, like a donate button, can generate a good way of your revenue. You can use this plan and it also engages a large audience with your social media networking portal.
Some Other Important Steps to Follow
These are the basic 5 steps for your social networking portal development. But there are many other important elements that also need to be managed. For example, you can use Quality Viewing Data options to increase your visibility. You use various types of CMS like- Drupal, Ruby on Rails, or .NET to enhance your development process. Defining data type is also a great element for your development process. You need to collect data from various sources and analyze them properly.
Finally, we can conclude the topic by saying that social networking portals development many processes and methods. You just carefully follow all the methods and check it out at the development time. Until the proper steps and methods are followed, the development process can't be successful.