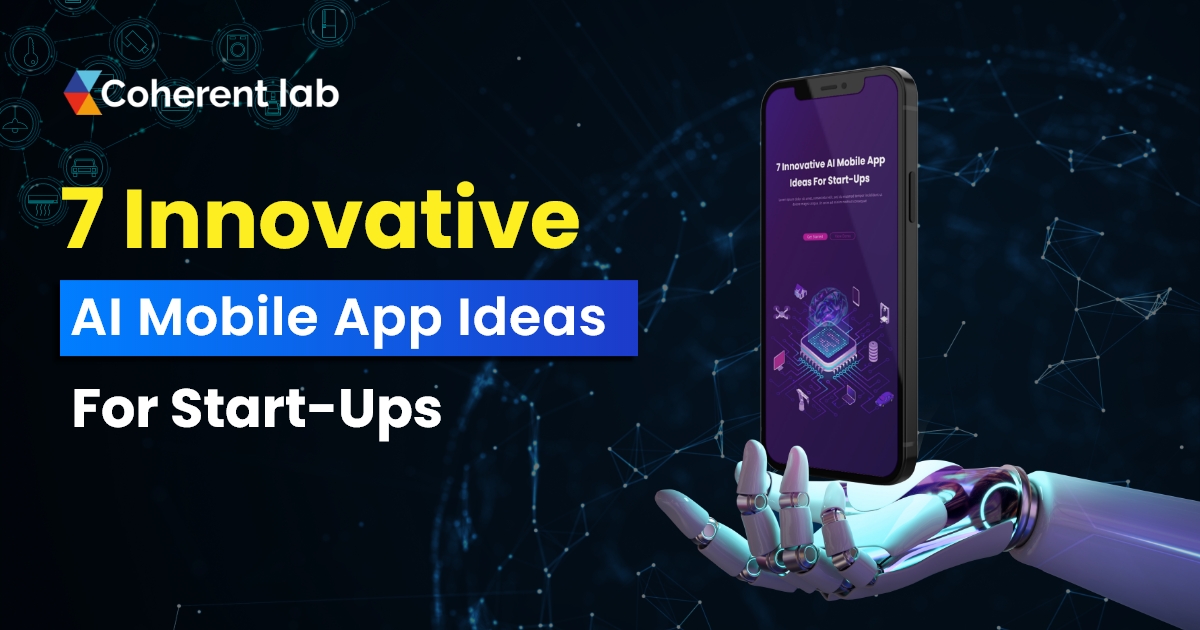 Artificial Intelligence (AI) and Machine Learning (ML) technologies have opened up a wide range of new opportunities for businesses today. These technologies are transforming the way things work and businesses operate, by effectively automating the repetitive tasks. Driverless cars and smart homes are amongst a few applications of AI technology.
PwC research shows that over 72% of CXOs consider AI as a game-changing technology that is laying the foundation of the future and will be of great benefit for business purposes. Many businesses are also looking to integrate AI into mobile applications to provide a great and intelligent user experience. With over one billion iOS device users and around 2 billion Android device holders, it makes sense to get in touch with a mobile app development company and get an intelligent mobile app created.
Mobile users are always looking for ai mobile app ideas that are lightweight, fast, and solve the purpose. However, it is not an easy task for start-ups to come up with ai mobile app ideas to develop an AI-based app. In this article, we have curated a few of the best AI app development ai app ideas for start-ups and SMBs that will help you while discussing it with a renowned AI app development company.
1. AI-powered cybersecurity apps Cybersecurity attacks are on the rise against businesses of all sizes. The major cyberattacks like ransomware and phishing scams have scared the businesses by costing them a huge sum and loss of data. Businesses are looking for intelligent cybersecurity apps and solutions to protect their data on mobile devices and computers. By developing an AI-based cybersecurity app, start-ups can cater to a wide range of businesses and individuals and make an impact in the market. Such apps can detect cyberattacks more efficiently without much involvement from users, defend the users against these attacks, and save their data.
2. Healthcare apps The Healthcare industry is leveraging almost every technology today for the betterment of humanity and to get things solved faster. AI is already proving to a boon in this industry by helping doctors treat critical diseases like cancer, get clinical insights, assisting in radiology, etc. Start-ups can look to develop ai mobile app ideas healthcare apps backed by a known AI app development company while leveraging technology to transform things for the doctors and patients. For example, AI-powered mobile apps can help doctors and patients to stay in sync always, find symptoms of certain diseases at an earlier stage, or get treatment recommendations over the app. AI-based apps will have a huge impact on healthcare app development over the next few years, and this is the time for start-ups to find the door to these new opportunities.
3. Client-centric apps Every business wants happy and satisfied customers. To provide a great experience to the customers and clients, businesses are always looking for the optimum yet ai mobile app ideas solutions. Apps powered by AI and ML technologies can analyze customer behavior, responses, and activities, thus helping businesses to learn exactly what the customers expect. Client-centric apps powered by AI can conduct personalized and automated surveys of customers after the purchase and recommend essential things. Things can be made better for both the clients and the business. However, you require assistance from an experienced AI app development company to achieve the desired objectives.
4. E-commerce apps With every other mobile user considering an online purchase these days, the e-commerce sector has countless opportunities to offer to budding entrepreneurs. It is expected that there will be over 2.05 billion online shoppers in the world by the end of 2020. This covers over 26% of the total population in the world. The stats show that start-ups have one of the best opportunities in the e-commerce industry if they come up with ai mobile app ideas. These apps should completely transform the user experience and must be competitive in the market. Many businesses are collaborating with an AI app development company to integrate AI in their already built e-commerce apps to provide customers with a personalized experience in terms of the size, color, shape, and brands of the products.
5. Apps to reduce energy usage Various industries including transportation and oil and gas are looking for solutions that can optimize energy usage and eventually save costs. These industries need AI-based apps that can predict energy consumption, provide analytics and insights on certain factors so that things can be optimized. Start-ups and SMBs can look towards such ai mobile app ideas as well while partnering with an AI app development company.
6. Recruitment apps Regardless of the booming economy, the employment scenarios in most of the countries remain the same. Employers are finding it difficult to find the right candidates, while candidates are finding it hard to get the right job. In such a scenario, an advanced app powered by AI can bring employers and candidates on a single platform and match the requirements of each other more efficiently. Recruitment automation with smart technology is already being implemented in new apps and this niche will see more of such apps. It is probably the right time to develop an AI-based recruitment app.
7. Geolocation apps Another great AI app development idea for start-ups today is to develop a geolocation app. Many businesses want to target customers based on their locations. For example, local stores, supermarkets, jewelers, spas, event organizers, etc. want to target potential areas of interest. AI-based geo-interest apps can fulfill that need.
Wrapping up We hope these start-up apps ai mobile app ideas will help you decide on your new venture. AI is the hottest technology today and you shouldn't be missing the use of it while transforming your start-up idea into a functional app. If you need assistance, you can always consult an AI app development company to get a clearer view. If you know of more such ai mobile app ideas, let us know via the comments below.