Inquire Now
Why choose us?
Many companies and institutes offer graphic designing courses in Jaipur but here are some of the reasons why you should choose us.

Excellent Mentors
Get outstanding training and learn various tips from the mentors.

Guaranteed Job Placement
We guarantee you a successful job placement in the IT industry with our training program.

Live Projects
Get the chance to work on live projects with our team.

Result-Oriented
Our training program is focused on bringing valuable results from your hard work.
Graphic Designing Tools You
Will Expertise
Digital tools are very significant in the design field. With our internship program, you get to learn several graphic designing tools which are as follows:

Figma

Adobe XD

Adobe illustrator

Adobe Photoshop

Sketch

Affinity Photo

ZEPLIN

Adobe InDesign
Benefits of Graphic Designing
Graphic design is one of the rapidly increasing careers in the modern world. This profile requires one to be creative as well as logical. A perfect balance of these two components can give you the following benefits:
Graphic designing is required in every industry so you can diversify your profile based on the industry you are working in.
A graphic designer can have a permanent job in a company or can be self-employed.
This profile requires creativity so it can never bring boredom to you.
You can choose to work with a team or you can just do your own job, whatever suits you.
Graphic designing is one of the most handsomely paid jobs.
Why Join Our Graphic Design Internship in Jaipur?

One-to-One Learning Opportunity
This will help you to gain the skills effectively and achieve your goals in a short time.

Expert Guidance
You will get quick learning tips and expert guidance from our mentors.

Freelancing Option
You can learn to work on various freelancing platforms and create a freelancing career in Graphic Designing.

Soft Skills
We not only focus on the main goal of designing but also on the development of your soft skills to help you succeed effortlessly in your career.
When you join our Graphic Design Internship Program in Jaipur, you not only learn designing but also various other aspects of working in the corporate world. You learn to work in a team and how to cooperate with each other.
Joining our Internship Program can help you build a strong career in the design field.
Skills You Will Gain
An internship is not only for getting a job, but it also teaches you a lot of things. Following are certain skills that you can learn in our internship program.
Proficiency in various Design Tools
Logo Designing
Creativity
Communication
Teamwork
Knowledge of the Right Color and Shapes
Typography
Time Management
Brainstorming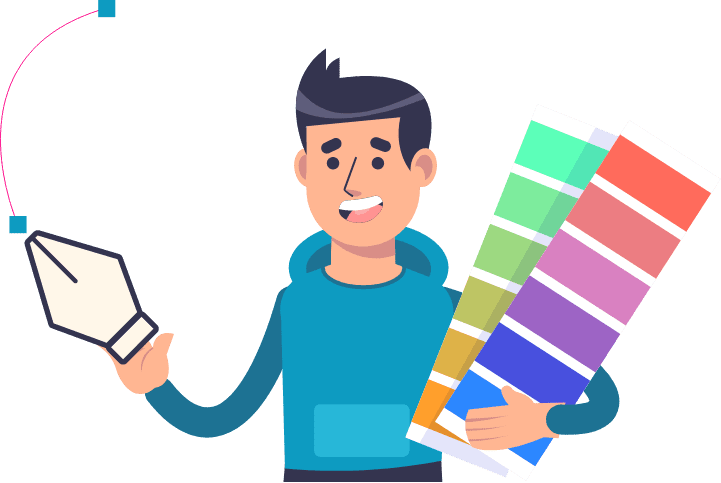 What will you learn in our Graphic Designing Internship?
There are certain set things that are taught in graphic designing courses. We have all the resources to help you gain all of that knowledge under our expert supervision.
Let's have a basic idea of the things you are about to learn during our internship program.
UX/UI Design
Logo Design
Banner Design
Mobile App and Website Design
Design Principles
Google Material Design
Infographics
Social Media Ad Banners
Time Management
Motion Graphics
Frequently Asked Questions
No, graphic designing is not only limited to the IT industry. A graphic designer can work in any industry as designs are required everywhere. It is a versatile job profile that allows a person to enrich their experience.
Yes, graphic designing is a well-paid job, though the earnings depend on the designer's experience.
A graphic designer is responsible for creating meaningful and visually appealing designs as per the client's requirements. It requires lots of creativity and a technical vision.
There are three types of internships we offer.
With stipend
Without stipend
Paid