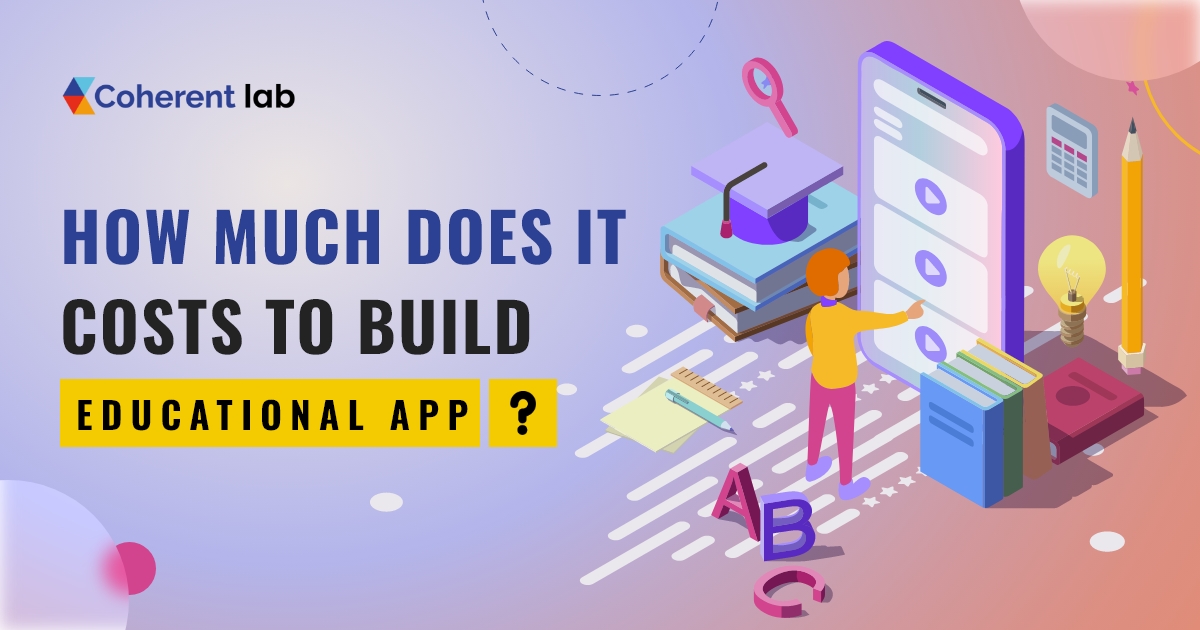 The technology market is growing at a fast pace in all sectors, including education as well. The trend of online learning has come into existence but after Covid-19, it has become popular. Online courses are web-based courses that aim is to teach aspirants in the form of distance learning. It allows students to learn topics of their choice or pursue any specific course. The number of online trainers and educational stakeholders is increased imparting educational content with each passing day. These apps have become a boom for students who cannot afford to study in foreign universities for specific courses.
There are many courses including a high course fee which is not feasible for everyone, apart from this online learning is also beneficial for working professionals as they cannot for full-time courses. Hence, it's a great way of improving knowledge and enhancing skill levels. So, are you planning to build an online educational app?
Great idea !! But before developing the app, it is important to know the Cost to Make an Educational App, as it will help you to make better decisions at all stages. Before deciding the cost, you should know what type of app you want to build.
Types of Online Educational Apps
Online course apps – These apps are in trend and widespread in the type of e-learning application. Online course apps are usually based around videos as well as also provide text material to students. People can use these apps for any course, i.e. from programming and marketing to cooking and dancing.
Applications that offer online courses are platforms over experts and teachers provide their own teaching programs and videos. You need to hire a mobile app development company that charges affordable costs to make an educational app and deliver better solutions. Online courses can be interactive, like – learning any language, soft skills, cooking, content development, etc.
Memorization apps – These apps are based upon all modern memorization techniques. Its main feature is displaying the visual presentation of study material. For example – you can use flashcards to ensure effective memorization that is beneficial for students to remember words and historical events.
Exam preparation apps – Applications that help students to prepare for their exams usually have large databases due to different subject areas as well as scheduling and assessment systems. To build an app like this, you need to work on push notifications and a regular assessment system that makes exam preparation effective and efficient. Alongside, you'll also have to include supporting tools that enable students to give specific exams. Hence, the cost to make an education app like Exam Preparation App is higher as it is based upon particular requirements.
Features to have in Online Education Apps
Online education apps have become a necessity in the present scenario. So, there are some necessary features to have in it and it also affects the cost to make an education app like Udemy. Here is given, list of such features to be included in online educational apps –
Video-based content – Online education platforms allow students to read, write and listen to pre-recorded lectures and chapter-wise lectures by teachers. Alongside, they can also get access to classrooms anytime and anywhere. Video-based content also assists students to zoom out any particular image by having a variety of options of fast forwarding or rewinding whenever required.
No doubt, video-based content will revolutionize the educational world and the demand for such features is surging high.
Interactive content – Study content that is interactive can get more momentum in comparison to what is not. In means, educational mobile apps should be widely interactive and defined properly with elaborative images that catch more user attention than the apps which just only provide information. Here, interactive means the content is filled with informative and engaging content too.
Live sessions and tutorials – The educational app you're building needs to have the potential to get arrange live sessions with day-to-day tutorials for students as well as teachers and students to resolve queries. Such tutorials can also be used to answer the different topics. In order to enhance the experience, you can also add up the feature "chat now".
Offline mode – Internet connection is a crucial aspect as all apps works in it, but having a good network connection is a concern for many students. Hence, if you're planning to build an education app then should offer offline mode, however, it will affect the cost to make an educational app. The offline mode lets students download study material and watch them later; this feature will attract many students and people.
Gamification – When an app comes with gamification, it increases user-experience. Through fun-learning and gaming experiences, students will easily learn and understand the topics.
Social media integration – Social media platforms are an efficient way to connect with users. It allows sharing information and content to social media channels like – Facebook, Linkedin, Twitter, Instagram, and YouTube. In this way, you'll always be connected with new users and encourage existing users to remain connected. Meanwhile, you also must ensure to offer great video quality and decent content.
Personalization – It is important in any app to increase user experience. By obtaining maximum user insights and further information, personalized your home page and apply other recommendations provided by users. Feedbacks, corrections, and tests are also surging the learning curve too. In this way, users can simply gain their level of understanding and experience by getting solutions to their problems simultaneously.
App localization – Learning is universal but languages are different. In the current situation of Coronavirus, most of the youngsters are switching to continue their studies through educational apps. Thus, if you offer them knowledge in their own language, then it would be helpful for your app to gain more users' insights. The cost to make an educational app also depends on mobile app location as for this you need to have a deeper level of understanding.
How Much it Costs to Build an Educational App?
The cost of developing any mobile application consists of different aspects. Apart from the given features, there are also some things that can affect the cost to build an education app. Below is given other factors include in-app development cost, such as –
Platform – There are three main platforms for software development, such as – Web, iOS, and Android. If you're looking to build an app on Android and iOS platforms, then the cost would be double as it requires different programming languages to use. In order to reduce costs, you can also choose cross-platforms frameworks like- flutter that work effectively on Android and iOS, although flutter developers are in demand that charges high than usual.
Developer's location – Developers from different countries and regions have different hourly rates. For instance – the most expensive developers, you'll get in the USA and Australia whereas Ukraine and such other countries offer affordable rates. You should tend to hire the best mobile app development company to get quality and cost-effective app development.
Design – Developing an online educational app can be difficult as it requires a user-friendly UX/UI design that is a time-consuming and expensive process. Although, the design is an important aspect since customers prefer to use attractive and intuitive apps. Often, UX/UI designers require a minimum of 120 hours to prepare an effective design for Android and iOS platforms as well as similar at cross-platform development.
Admin panel – It renders a variety of features to manage users, i.e. allows blocking, deleting, or editing users. Hence, you'll need an admin panel as that it couldn't be possible to handle several users manually. Admin panel also aids in payment management. However, create this much can affect the cost to make an educational app.
QA Time - Providing quality assurance services is crucial for any tech project. QA engineers are responsible to test the bugs and fix them. To test an app (MVC for Android and iOS and back end) requires approximately 1300 hours.
DevOps – Many companies also offer DevOps services that ensure to put the right tools and automate the code flow from development to production. DevOps services will also fill the bridge between developers and the IT team, DevOps takes almost 200 hours to evaluate all the aspects.
Therefore, these are the main elements on which the cost of an app relies highly. In order to evaluate the cost of your app, you can multiply hours with rates.
Conclusion
There's never been one size fits in all approaches to build an online education app. Nor, there is a technology that calculates the exact cost to make an education app; it all depends on the type of app, features, chose a platform, and so on other things. When you hire android developers for mobile app development, you must ask all these things to them thus to decide to move further if it suit's your budget. Connect with us, for your idea of an online education app. Share your thoughts for app development, in the comments.