Inquire Now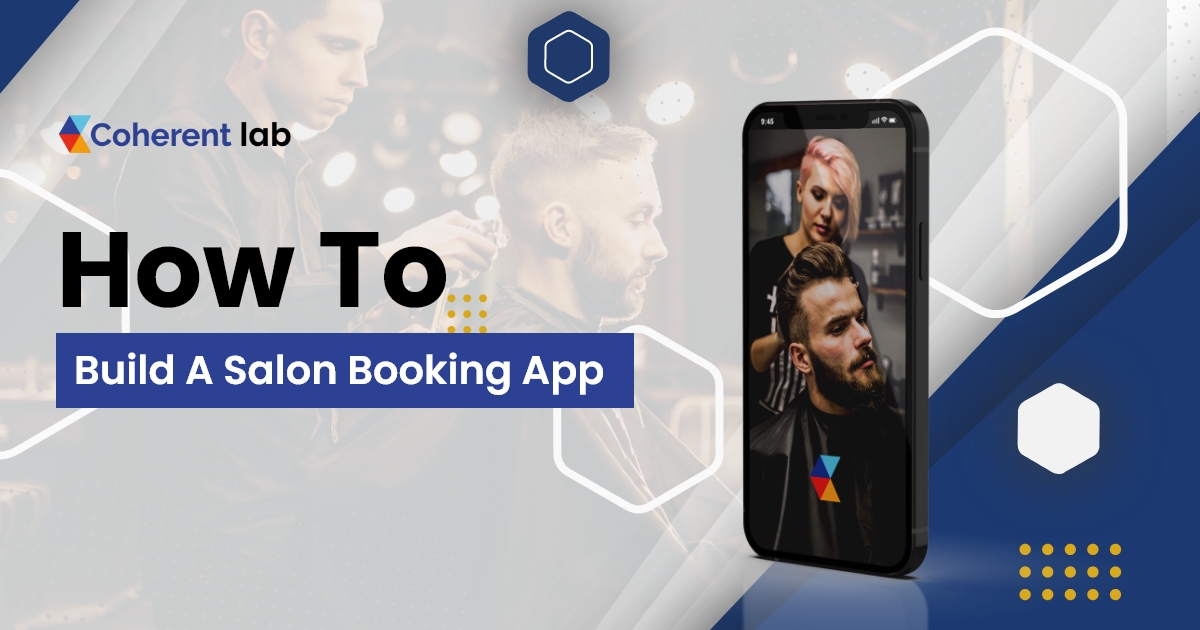 How to Build a Salon Booking App? Being healthy and well-groomed is the mantra in the era where we are in. But with the peaking of the pandemic, has messed up our daily routine. This has created huge changes in our lifestyle. We are not able to move out as per our free will. We have become more conscious about our health. So we are trying to be indoors as much as possible. Looking presentable is equally important to be healthy. Salon services were previously limited outside the house. And also, making bookings, waiting for the turn was a time factor.
The introduction of the salon app made things smoother for both men and women. A salon app now helps to make bookings from anywhere and fix appointments according to a customer's availability. Salon app development has become a craze among salon owners now.
A salon app not only helps the customer to fix appointments as per availability, but it also helps the owners to manage accordingly. It saves time and energy for both the owners and customers. Moreover, App-based salon services offer services at home, which let the customers stay back at home, and enjoy the services, and also the fear of pandemic is lesser here.
BENEFITS OF BUILDING A SALON BOOKING APP
Salon businesses and other beauty services supported by App are growing with passing time. Building an app for your own salon has few benefits of its own. Mentioned below are a few of them:
Easy Navigation This will help your customers to access the salon details starting from the location of the salon, direction to the salon, packages available, services provided, functioning hours, prices, store policies, booking availabilities, and others.
Time Management The best part of the salon app is that it allows the customer to book appointments from any part of the city at any part of the day. It eliminates all existing measures of waiting to schedule an appointment. With this, a customer has the full flexibility of time management.
Automated Messages It is important to remind your customers about your existence. Most of the customers avoid sales calls, but the automated messages (push notifications) inform the customers about your salon and its latest updates from time to time. It also lets the customers know about the offers and discounts that you are offering from time to time.
Easy Online Payments Digital transactions are the new trend, especially during the pandemic. Adding reliable payment gateways will help the customer to make the payments easily with nil issues. Payments done at the time of the bookings will also help with the cash flow system.
Personalization This is a great benefit of a salon app. This allows a customer to choose their own desired stylist or a beauty expert.
WHY DO YOU NEED TO BUILD A SALON BOOKING APP?
Here are a few undeniable reasons as to why you must develop a salon booking mobile app:
A salon booking app enables salon owners to go online and manage and streamline their appointment booking processes. This allows them to come closer to their customers. Also to note it will enable you to get rid of those who come to the salon just to block the path.
The salon booking app allows your customers to have the freedom of booking an appointment as and when they want to have it, irrespective of your working hours. This means that there will be an increase in business prospects.
The search for 'Salons near me' and 'Book a salon near me' on search engines has increased many folds in recent years. This is a reason good enough for you to build a salon booking.
Building up a salon app saves both time and energy. You may or may not know that few of your
salon staff members are occupied with a variety of other tasks which includes:
taking calls from the clients or making a follow-up appointment call,
they may also get engaged in processing gift card sales, billing and payments.
But with a salon booking app, your staff will save themselves a lot of time and energy by avoiding doing manual tasks like handling appointments, doing follow-ups, checking payments looking after the billing. In this process, your salon staff will be able to handle more clients.
IMPORTANT FEATURES INCLUDED IN A SALON BOOKING APP
When you think of building up a salon booking app, it important to know what important features you must include. Below are some primary features which should be considered while building a salon app.
For The Customer In-built Calendar: Ensure to Include a built-in calendar for managing the appointments. This will allow your customers to check reservations that are directly linked to your salon's in-house calendar, and accordingly, they can book their appointments.
In-App Payments: In-app payments make it incessantly easy for your customers to make payments, and during this pandemic situation, it will be of great use. You may also introduce a commitment fee to ensure that customers don't cancel their bookings and show up.
Style Gallery: Including a photo gallery with an unlimited number of photos will allow your customers to choose the exact style they want thus this builds excellent communication between you and your customer.
Automated messages: With new apps hitting the market almost every day, it is very important to remind your customers about your salon. Automated messages inform your customers that you exist and send the latest updates and info on loyalty programs from time to time.
GPS: You need to include the exact GPS location of your salon so that it helps your customers locate the salon.
For The Admin Client Management: Know about your clients' schedules, their previous engagements with you.
Appointment Management: Manage Appointments for smooth service providing
Staff Management: Manage Staff and their schedules
Service Management: Manage Services, Create Package, give out discounts.
WHAT IS THE IDEAL TEAM STRUCTURE OF A SALON BOOKING APP?
Your salon app development team structure depends entirely on the type of app you are looking for. Since you are looking for an app that does well to manage salon booking appointments, you will need the following team members to build your app:
Project Manager Project managers are people who will be responsible for the planning and execution of your salon app development. They will create a defined scope, defined start, and a defined finish of the development process. It is very important for you to work with a project manager who has relevant experience. This will help in productivity to a great extent.
Application Developer Application developers are those people who are usually responsible for translating your beauty salon app requirements into workable programming code. They specialize in specific programming fields, such as mobile phone applications, etc. They have in-depth knowledge of specific programming languages. You will need to have:
App Designers
App designers create interfaces for mobile phones. They work across a number of platforms, including Apple iOS and macOS, Google Android, and Windows. You should include a few app designers in your team, including graphic designers and professional UI / UX designers.
Application Tester Application testers are responsible for the detailed evaluation of your app. They give feedback, allowing you to improve the quality of the app. Don't forget to include them in your team.
THE COST FACTOR FOR BUILDING A SALON BOOKING APP
The cost of a salon android app development process depends on the features you want to implement. It takes around 10 weeks to build a salon booking app for iOS employing Agile Development Process. However, the development time may vary with additional features. Ultimately the app is meant to simplify the work of your staff and managers and give a better experience to your customers. While going for a salon android app development you need to decide if you want to develop the app for Android or iOS or both.
There will be a fair chance that your customers and staff use both. In such a situation, you will need to build a hybrid salon app that works on both platforms. At this point, it is also noteworthy that decide whether you are hiring a mobile application development company that you trust or a mobile app developer who works independently. Here are a few factors to consider while estimating a cost:
Which platform are you choosing?
Which features you want to include in your app?
Are you going for front-end application development?
Type of supporting Website
Specification of back-end application development
UI / UX development
The cost of a beauty salon app development almost the same as an educational app in India is quite low and reasonable. There are also some good online app builders you can employ. What you need to do is:
Select the salon app template according to your necessity and preference
Customize the appearance of the template
Insert your content
Make use of the publishing wizard to launch
CONCLUSION Now, you know all the benefits of having a beauty salon app and the nitty-gritty of beauty salon app development. So if you have not started investing in your beauty salon app, you must start with it right now. Your app will speak of your growth and existence in the market.