Inquire Now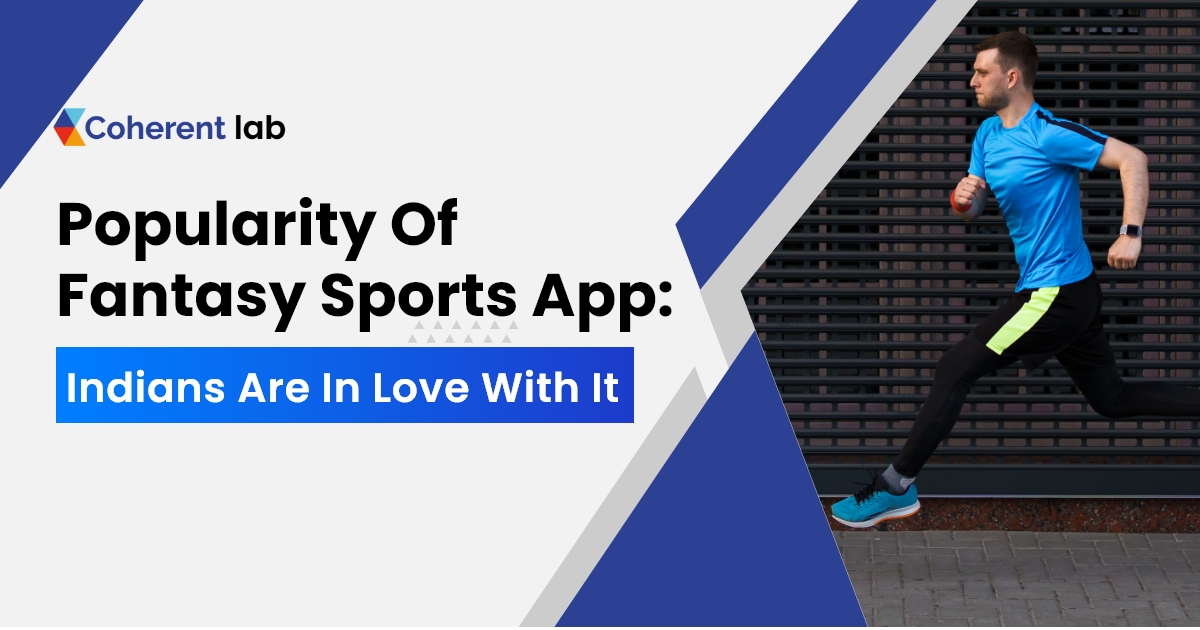 Fantasy sports is a kind of game, which is being played using the internet, especially through an app. Here the participants develop imaginary or virtual teams, with the proxies of the real players of a professional game. These teams compete based on the previous performances of the players in their actual game. All these are done with the help of a fantasy sports app. For example, the players may select a set of some players from the list of the app and earn some rewards, which is mainly cash on the basis of the performance of the selected team in the given game.
According to the Fantasy sports and gaming association, more than 59 million people are connected with fantasy games across Canada and U.S. On the other hand, 20 million people are engaged in fantasy games across India, and it is estimated that the number will reach 150 million by the year 2022. Nowadays, there are many Fantasy sports app development companies across the globe. Recently the fantasy sports gaming apps have become very popular among the sports enthusiasts of the world. The fantasy sports apps are also used for promoting various brands in the global market.
Reasons for popularity of Fantasy sports app
The popularity of fantasy sports apps has grown with incredible speed as more sports are being added to the fantasy leagues and thus attracting more fans to play these sports. Research by Fantasy Sports Trade Association (FSTA) states that 64% of the players said that they were watching more live sports because they were engaging in fantasy sports whereas, 61% said they want to know more about various sports because of the fantasy sports apps. There are some special factors that make the platforms of fantasy sports more relevant to millennial fans today. Those are –
The feeling of power
In these sports, what the fans are actually looking for is a sense of control and power. When they are frustrated by jobs and various personal situations, which are out of their control, fantasy sports offer them the power to achieving something. Successful fantasy sports allow their users to choose their own teams and leagues and thus win cash prizes by the use of their own skills.
Fantasy sports apps increase the thrill
If there's one game that can beat the practice of watching live sports in a stadium, it is of course the fantasy sports. Sports are a medium to escape from the stress of life and the workplace for millennial fans. For people without enough money to spend, fantasy sports apps are a very impressive and easy way to feel active and efficient by using their own knowledge about various games. The fantasy sports app development companies offer various special features such as rewards, offers, points, discounts, and much more, that give their fans some exciting experiences. As daily fantasy sports offer their players a more edgy experience, the fantasy games provide a long-term connection with their favourite sports and players. The fantasy sports apps development companies try hard to make us happy through these apps.
Winning cash prizes and rewards
Fantasy sports players feel an obvious sense of achievement when they can win cash prizes by just playing. The fantasy gaming platforms have a special way of distributing the prize money to worthy players. Along with the thrill, when fans can win money or rewards, it takes their love for games to a whole new level.
Development of Fantasy sports apps
Another factor that has added to the immense popularity of fantasy sports apps is the way these solutions have developed and evolved. Today the design of a fantasy sports website is no longer about just the look of the app but also about the best user experience. Sports brands are ready to hire a fantasy sports app development company that has talented workers and can understand their fans at a deeper level. This has helped to create some stunning applications and websites of fantasy sports resulting in the popularity and growth of fantasy sports throughout the globe.
The reason behind the enormous popularity of Fantasy Cricket in India
While saying about India, it is really fascinating to see how a sport has grown to become something of a special bond that binds an entire country of over a billion people together in a manner that you cannot find in any other country. For a large number of cricket fans in India, cricket is not only just a sport but a religion. And as the game of cricket is their religion, cricketers are praised as heroes and idols of the sport. Those players are respected by the fans as gods for their spectacular performances during the game. One of the best results of the cricket craze in India is a version of the sport called 'gully cricket'. Also famous as street cricket, this is a style of cricket that has grown to become a game on its own. This is mainly due to the reason that cricket can be played anywhere, even in the narrow streets of Indian cities. Lovers of this sport play cricket with just as much happiness on the streets as they do in stadiums. The popularity of cricket in India is known to all. The reason for the rise in popularity and love for the sport in India can be a variety of factors, like:
It is a versatile sport
Easy to play
Strong support of the governing organization
Strong infrastructure for practice
Top four fantasy sports apps in India Here we can get a good idea about mobile app the top four fantasy sports apps in India:
Dream11
Dream11 can be depicted as the biggest and most popular fantasy app in India. The founders of this app are Harsh Jain and Bhavit Sheth. It was created back in 2008, and the numbers of users currently it holds are more than 10 crores. It provides various kinds of games like Fantasy Cricket, Football, Basketball, Kabaddi, Hockey, Baseball, Handball, and Volleyball. Various tournaments around the world have Dream11 as their sponsor. Moreover, a player can create 11 teams for a single contest. Thus, the prize money is huge.
Fan2Play
Fan2Play is one of the new fantasy apps that have come to grab the Indian market. It was founded in the year 2020 by Fan2Play Games Pvt. Ltd and it is gaining rapid popularity. Fan2Play is a very versatile and adaptive fantasy app.
My11Circle
It is one of the fastest-growing and also becoming a very popular fantasy sports app. My11circle is a fantasy app only for playing cricket, and it is both owned and operated by Play Games24x7 Pvt. Ltd. In My11Circle.Here the player turns into a selector where he can select a maximum of six teams for a single match and can employ various combinations of teams to make their game more interesting.
Mobile Premier League (MPL)
Mobile Premier League (MPL) is a mobile e-Sports gaming platform which has various categories of games for their users. It was launched in the year 2018, and its owner is Galactus Funware Technology Pvt. Ltd. The MPL app provides a fantasy platform for four different sports – cricket, basketball, football, and kabaddi. Conclusion: Therefore, in the modern days of various problems and frustrations, fantasy sports apps are giving us a special chance to enjoy our lives. Hence, you should try to be happy in life through these apps and thus pay respect to the hard works of any fantasy sports app development company.