Inquire Now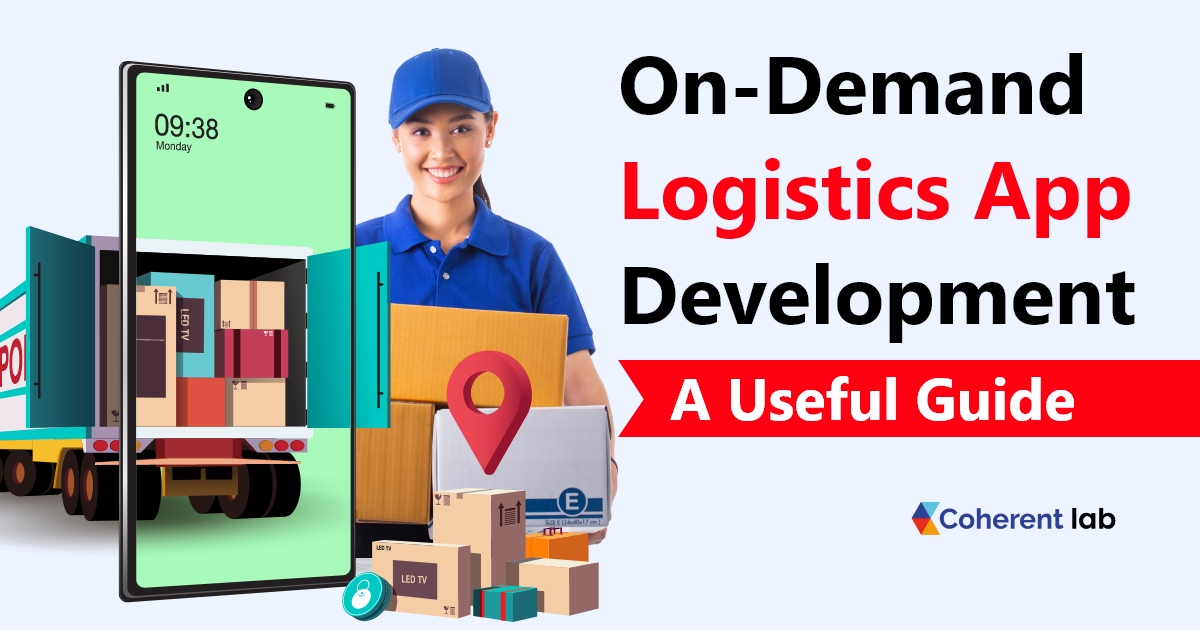 An on-demand logistics app is a platform that enables businesses to connect with third-party logistics providers (3PLs) to manage their shipping and delivery needs. On-demand logistics app development offers a number of benefits for businesses, including cost savings, improved efficiency, and greater flexibility.
Logistics app development management is a complicated process, and the more you think about it, the more complicated it becomes. It is not just about getting the right product to the right place at the right time. It is also about making sure that your company has enough inventory, that your customers are happy with their products, and that your employees are well-trained.
An on-demand logistic app development company can help you with all of this by helping you manage your supply chain. With an app like this in place, you will be able to track inventory levels and ensure no gaps in production or shipments. You will also be able to make adjustments when necessary to meet customer demand and improve customer experience.
We have seen on-demand apps for everything from transportation to food delivery. Now, we are seeing the same trend with logistics. The logistics industry is a huge market, with companies like FedEx and DHL shipping billions of packages every year. The on-demand logistics apps are designed to make this process easier for everyone involved.
There are many on-demand logistics apps out there that have different features and services. Some of these apps offer the same type of service, while others offer different types of services. The app that offers the most diverse range of services is UberEats. UberEats is a food delivery app development that provides a wide range of menu items and allows you to order your food in three easy steps: pick your cuisine, pick your restaurant and place your order. In addition to food delivery, UberEats also offers grocery delivery with Instacart in select cities.
Also Read:- How To Develop Fintech Application Cost and Features
Types of logistic app development
There is a plethora of apps being developed with regard to logistics. The further enlisted ones are counted as types of developed logistics apps.
Fleet routing software
It is a string of programs and algorithms used for the purpose of logistics and transportation by companies around the world. This type of software is used for determining efficiency and cost-effective methods of transporting products. This is an excessively competitive and dynamic field, with dozens of firms offering different versions of this technology. The model efficiently accepts real-life fleet datasets regarding various routes and deliveries. It generates output in a single paragraph for every segment of data.
Supply Chain Management Software
This software comes under the distinction of Enterprise Resource Planning or ERP software. It is intended to assist various companies in managing their complex supply chains. It is further developed such that they optimize the efficiency of goods when transported from their origin to their customer. The software's mode of operation is that it operates at numerous points in a supply chain and assists the companies in managing the technicalities of their internal and external supply chains.
Internal supply chain management entails the procedure of managing a product's supply within the jurisdiction of a company. Its main goal is to decrease costs and waste generation. SCM software is generally used by companies that specialize in operating in the supply chain domain. On the other hand, external supply chain management entails the procedure of managing the supply chain of a company from the aspect of a large pool of suppliers and distributors.
Real-time transportation management software
This type of software is cloud-based and is known for automating the tracking of vehicles and assets. Logistics companies in the United States widely adopt real-time solutions. However, many companies that use paper-based solutions to track assets need to be replaced. Real-time solutions entail the elimination of staff, further reducing the cost and enhancing efficiency.
Asset tracking and management software
This software is designed to be a user-friendly application to fulfill the purpose of guiding clients to monitor their assets' movements. They can be handy to various firms that are dependent on the shipments of different goods to bring more revenue. It efficiently tracks the latest location of any product or shipment by the application of global positioning systems and barcode scanners, to name a few. It significantly simplifies the logistics process by keeping track
Digital twin technology
The technology is a representation that virtually serves as the digital counterpart of any physical object in real-time. It allows one to track the performance, maintain the history of use and predict the performance forecast of any product. It is highly useful in logistics as the companies have the capacity to create various digital twins of the products that need to be shipped. It further allows them to track the performance of products in the market and maximize the overall performance.
In a world full of technological developments, logistic apps' use is increasing daily. The industry is becoming highly profitable, with more subscribers generated yearly. But unfortunately, due to downtime, the area loses subscribers.
Below some of the advantages of the logistics app development are mentioned. It is as follows:
The apps are used in various areas such as:
Transport management
Inventory management
Warehouse logistics
Good monitoring
Routing
Transport logistics
Forwarding
Transportation, etc., including many more.
You can easily connect with all workers through the logistics app. Communication is the key for any business, and the app helps you do it. Isn't that fascinating?
The logistics app can help you in generating profits for your business. Let us see how it works:
It can reduce the volume of workload on the existing workers.
You can easily manage the schedule with your co-workers.
Payment clearing can be handled easily.
One can easily track the delivery and arrival of goods or services through the app.
The other advantages that the app can provide are:
One can get instant proof of the delivery.
You can maintain communication with the drivers.
You can calculate the estates, payments, and tariffs through the app.
Logistics app development can track the position of trucking vehicles in real-time management.
The app can help in determining the location of the sending and delivery points by tracking GPS.
Features of a logistics application
There are many features of the logistics app that you cannot miss. It is as follows:
You can easily track vehicles through the logistic app.
People think that without the internet, there is only loss, but a logistics app can provide you with a feature of offline support. It can be beneficial for the overall process.
One can easily plan the routes through the logistics app.
In case of emergencies, the app can provide information related to the nearest mechanical support and fuel stations.
Process of on-demand logistics app development
To create a logistics app, one should have step-by-step guidelines. The procedure is given below.
Step 1: Select the type of logistics app you want to create.
Step 2: Contact the professionals to discuss the various aspects related to the app development.
Step 3: Sign the Non-Disclosure Agreement and explain your idea to the investors or clients.
Step 4: Collect information on the rough app development.
Step 5: Launch the phase.
Case Study
Today, on-demand logistics app development is used by businesses of all sizes to improve their shipping and delivery operations. These apps offer a number of advantages, including real-time tracking, notifications, and streamlined shipping processes.
While on-demand logistics apps are still relatively new, there are already a number of success stories from around the world. In this article, we'll take a look at three successful case studies of businesses that have used on-demand logistics apps to improve their operations.
The first case study comes from the United States, where a company called Delivery has used an on-demand logistics app to improve its shipping times. Delivery is an e-commerce fulfillment service that helps businesses ship their products faster and cheaper. Delivery works with e-commerce retailers, logistics companies, and courier services to offer various delivery options.
Delivery is the first company in the world to offer an on-demand logistic app development service. They have been able to provide an efficient solution for any delivery needs. Their team of experts uses data analytics technology to accurately understand customer needs and offer the best possible solutions. The company has been able to provide a safe and secure experience for both customers and retailers. All deliveries are insured for up to $10,000 per package. Delivery also offers flexible pricing plans where customers can choose from different packages depending on their needs for delivery times and distances.