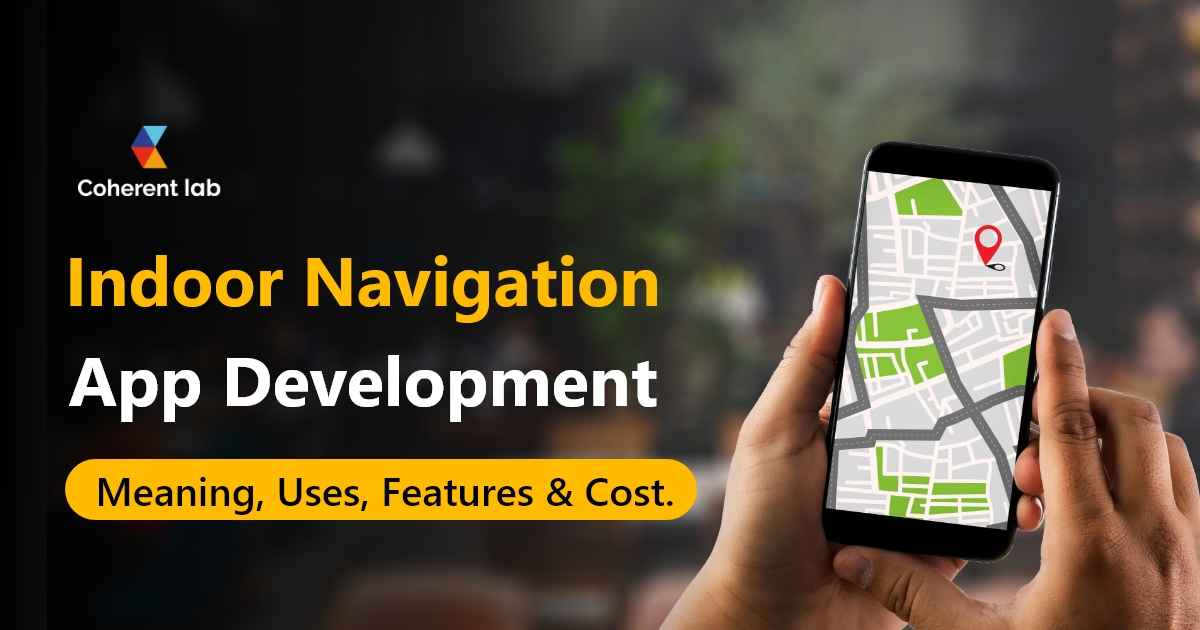 Hello, Having Smartphone in hand? Well, nice, then it becomes easier for you to find your best route with the help of the navigation app. Don't you think that our lives have become so easy after the introduction of these apps which helps us to find our destinations so conveniently? GPS is an excellent way of finding the exact destination. It can help you to find any place on earth and the best route to reach there. But it does not work when you have to find the exact location in a particular mall or building. That's where you got stuck. But don't worry, we have a solution for that too. It is called the Indoor Navigation App. So, let's get to know what this is all about.
What is Indoor Navigation App?
The Indoor Navigation App allows users to identify their destinations within large buildings. It makes it easier to find any desired location within your specified destination. To understand this, let's take an example. Suppose you plan to go to a restaurant inside a shopping mall with your friend. Going to the mall is not complicated as there is GPS to guide you. But what if you do not know the exact location of the restaurant in the mall? The GPS won't work there as it can only navigate you to the location of the mall and not the interior sections of the building. GPS technology is great for the outdoors, but when it comes to the Indoors, like in shopping centers, shops, and big buildings, GPS-based mapping app fails to perform. This is the time when the indoor navigation app comes into the picture. This app works the same as GPS but to more precise locations.
The indoor navigation app is different from outdoor ones. The thing is that the GPS outdoor navigation apps utilize satellite signals, and they lose the signal in large buildings and shopping malls. The indoor navigation app is specially generated for smaller areas. With the help of augmented reality, it displays your location just only by accessing integrated GPS maps. This Indoor navigation app makes it a great thing to experience your destination in an unfamiliar location with considerable insights. Now let's go further to its meaning, working, features, and cost to develop Indoor navigation app development.
Read Also:- Money Lending App Development
How does the Indoor Navigation App Work?
The Indoor navigation app affects some internal parts of your smartphone and calculates indoor position using some mathematical algorithms. Then it combines the information that comes from the sensor for calculating the exact location of the device while avoiding any latency. To fetch and deliver accurate positioning results and a smooth user experience, this Indoor Navigation App relies on three main elements:
Fundamental powerful situating framework
Guiding broadcasting signals from the smartphone
Sending signals to the situating framework
These are 3 primary components that help to consolidate and gather information from various areas and ascertain the specific position of the user. It uses highly advanced technology to find the accurate position of the smartphone in a building and thus provides the user convenience to find their desired location.
Uses of Indoor Navigation App
Indoor navigation apps are highly beneficial to businesses as well as users. The app permits users to search for the best route easily inside any building. The search procedure of this app is fast and easy to use as it consists of an option for voice search. This feature assists in quick and convenient searches. There are various entities that can benefit from this Indoor navigation app. The list includes:
Universities
Hospitals
Hotel and resorts
Theme Park owners
Shopping malls
Airports
Sports
Museums
It is such a brilliant app to help those who are not familiar with their destination. If you are a business entity and looking for application developers that can provide you with indoor navigation app development services, then get in touch with a top app development company. They would deliver the best indoor navigation app solution for your business to simplify the search for your customers and visitors.
Features of Indoor Navigation App
The indoor navigation app has various functions which make it one of a kind. It is very useful for navigating large buildings as well as malls. Here is a list of some of the prominent features of the application:
Tracking: The technology allows users to find the exact location of any place within any building. It helps to track the correct positions through various computing protocols and positioning patterns.

Mapping: The indoor navigation app allows users to find the shortest routes to their desired destination. It also provides data on the density of people in the entire complex, so you can make the best route accordingly.

Push notification: The indoor navigation app regularly notifies the customer about the route and directions until they reach their destination. It helps them in staying updated on their route.

Monitoring: The monitoring feature gives statistics related to the number of people who are entering the mall, complex, hotel, or any of your destinations. This allows the user to know about the kind of crowd at a particular location.

Voice control: This is one of the best features in the app which makes it easier and more convenient to use. So, you can search for your location even if you are unable to type your desired location.

Navigation: This is the main motive of this mobile application. This allows customers to find out the fastest route to their destination.
Administrative capabilities: This feature helps administrators maintain the indoor navigation app and develop advertising strategies for various companies.
Read Also:- Doctor Appointment booking app development
How much does it cost to develop an Indoor navigation app?
The cost of an indoor navigation app development depends on the requirement of the quality of functions in the app. A simple application with basic functions may cost between $10,000 and $30,000 while a complicated app with diverse functions can cost up to $100,000. This cost is decided based on numerous variables other than functionality. These variables include app features, app style, app network, development company, etc. So, let's have a look at the variables which decide the cost of an indoor navigation app development.
UI/UX Design: If you want to attract more and more customers to your business through an indoor navigation app then you need must need an attractive design for the app. The UI/UX designers are responsible for the designs of the app, so if you choose a complicated design then it would cost higher.

App Development Team you hire: The Development cost of an app highly depends on the team which is responsible for its development. So, if you go with a dedicated development team then your cost may increase, but this will give you excellent results. On the other side, if you do not have a big budget for a well-reputed
the development company, then you can also go with a less costly company for your app and reduce the overall cost of your indoor navigation app development.

App complexity and its size: This is also a very important factor that can affect the overall cost of the app development process. It is such a simple logic that if you need a small app then it will cost you less, but as the size of the app increases the cost also increases.

Choose the best platform: The cost of your indoor navigation app development can also be affected by the platform you choose to launch your app. There is a different cost range for Android and iOS platforms. So, whichever platform you choose, the cost will also fluctuate with that.
Sum Up
So, the indoor navigation application is a very convenient and innovative idea that can help many individuals in finding their desired location within a particular destination. It has so many features which make it easier to use. This is highly useful for businesses to assist their customers and attract more of them. If you are also a business owner and looking for an indoor navigation app development company then you can contact Coherent Lab LLP. This is a leading offshore development company in the field and can solve any of your queries.