Inquire Now
Web Development
Real Estate Portal Development - What Are The Benefits Of Estate Portal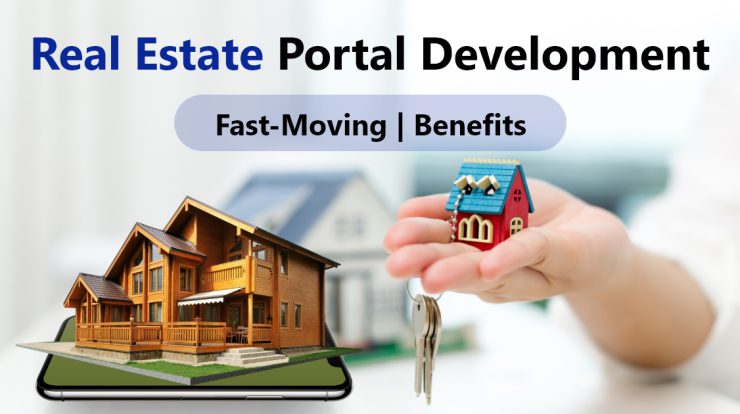 Day by day, around 70% of home purchasers are beginning to search online. It has needed presence for the real estate dealers to have an active online presence. The real estate business is more significant in the market. Today's time real estate business is also shifted online portal, which makes it easy for everyone, whether it's a seller or a buyer. A real estate portal is the best way to refer to a website for real estate. Almost all real estate agents and property managers are now looking to have their own websites. However, it also makes it easy for them to sell or buy properties efficiently utilizing Real Estate portals and mobile apps.
The Real Estate Portal development is highly helpful to list their properties along with all details they need, for example, cost, number of rooms, much more, all the things. It is not only necessary for purchasing and buying the properties, but also users can buy on rent or lease properties via this real estate portal. Due to the busy lives of everyone today, all users are highly looking for an online portal for real estate needs. So, this is the best time when you can target your customers with a user-friendly, highly functional and innovative real-estate portal development.
As one of the best Real Estate portal Development companies have done a lot of work with real estate application developments for various clients in each part of the world. There are many advantages to creating a real estate portal. Having a lot of industry experience and knowing all requirements and needs of the Real Estate industry requirements and needs. The expert team of .NET developers is well experienced and skilled in Real Estate websites and Real Estate app development. Some of the unique and creative real estate portals which full fill all the basic requirements of clients with some new innovative ideas and thoughts.
Also A Good Read: How much does it Cost to Build a Cryptocurrency Exchange App
Benefits of Real Estate Portal for your real estate business
Huge Database of customers:- Establishing a real estate portal, you will have a massive amount of data to handle for your customers. You also give services to the buyers and sellers. Portals can help you collect this massive database of your online visitors and potential customers. It is also highly helpful for both buyers and sellers to interact on your platform from various geographical locations.
Easy verification and full transparency:- With the real estate portal, the verification becomes simpler and quicker. You can basically request various owners and real estate agents to transfer significant records like papers of property, identity relevant documents like property papers much more. You can also likewise sign new agreements with new merchants and specialists and install them by means of online agreements. This will also help every user or customer a lot.
Search Engine Visibility:- With the help of an online real estate website, you will be able to list a huge number of properties in various categories and then drive traffic through it. Listing properties in one place, a high number of a visitor will visit to it and thus, your visibility will increase.
Saves a lot of time:- Nowadays all are busy in their schedule having less time as the people don't have much time to go out searching for a home to buy, for rent for them these property portals and listing are a benefit. Through simple steps, they can login to these portals and search for the properties as per their needs and budgets.
Social media integration:- This is one of the great features for property sellers; with the help of these features, customers can sell their property on other social media platforms. All they need to do is integrate their social media sites with their portal websites. They can allow users to reach out to them through social media to migrate from public to private one vice versa. They can utilized various social media networks such as Twitter, Facebook, Instagram and so on.,
Quick, convenient and easy to use:- Quick means anywhere you can see the properties on your mobile. No more repetitive or complicated process. Just an easy way to use only point, click and sell. So fast without wasting time, you can use it in easy and quick manner. There are many benefits of a real estate portal like you can have a look at the property by viewing images etc. You are provided with a large number of options to choose from that is not possible in real-time searching.
Also A Good Read: On-Demand Dog Walker App Development Cost & Key Features
Advantages of Real Estate Portal:-
Internet and online activities have started to dominate our life more and more. Most of retailers and sellers highly prefer to utilize the internet to sell their property. There are reasons why using an online real estate portal presents you with various advantages. As per the report, there are many millions of people are utilizing the internet.
The advantage of using a real estate portal in any country is that buyers and sellers in the property market all over the world can connect with each other and trade through these beautiful portals and to bring a hassle-free experience to all people who are looking to buy, sell or rent as well. Moreover, from the price, type of property, you can also search for everything related to the property, either flat, bungalows etc. This portal will also help tools like map search of specific locations and estimate travel time between locations online.
Any buyers and sellers can have direct access to this information to save time by eliminating multiple phone calls and site visits.
Its free online property listings
You can buy, sell or rent a property without a real estate agent.
No, can make any other fake listing as well properties will be verified by the website.
The buyer and seller will have direct access to information, which saves time eliminating multiple mobile calls.
You can upload a photo of the property in the portal and so that buyers can get them out.
Through this portal, you can reach a much huge audience
Anyone who is news to the city can easily visit the online portal and get an easy way to access information.
Once your property is listed, the listing will remain unless it is purchased or rented.
It is very affordable to everyone because no charges are taken to list your property it's totally free of cost.
The buyer can customize their search to exactly suit their requirements as many filter options are available in this real estate portal.
As we've seen, the real estate industry comprises many telecommuters and staff who highly spend most of their time out of the office. So for that is mobile responsive is there necessary.
The advantages of utilizing one, let's turn our attention to the difference it can make to your business.
Solution for Real Estate portal development:-
Real estate portal services that cover all important parts of Real Estate portal development needs. Some of the services which include are:
Real Estate portal design
Real Estate portal development
B2B Real Estate portal development
B2C Real Estate portal development
Real Estate Mobile App development
Real Estate portal maintenance and support
Real Estate Landing page development
Why Choose us for Real Estate Portal Development:-
Excellent customer service:- With a group of client support expert team who work nonstop and guarantee that all elements of your internet-based presence move along as planned with practically no errors. We always help you to give the best portal for every customer—our expert team with you to deliver the best services at any time.
Custom design:- We accept that each business is unique. Our real estate portal development solution providers work in the team and help you in the highly best and unique solutions which tailored to match your specific requirements.
Reasonable prices:- Our experts' team understands the challenges faced by other small and medium businesses. We always know that each sum spends profoundly basic. That is a reason why we guarantee that every one of our clients gets the best result and gets an advantage at the ideal costs.
Start to finish services:- Being one of the best organizations, we assist you with considering various parts of your portal presence which includes all facilities like SEO, marketing and much more.
Now it's time to say that the Real Estate portal is not only beneficial to single-agent but its also highly beneficial to many in this field. There are some essential features to be known for having a real estate portal and how it will be helpful to individual ones like agents, brokers, sellers etc.
Real Estate portal Features for Business owner :-
Real Estate:- Real Estate portal is developed where the users can find just everything about the arena and search property as per their needs.
Edit/add/ delete categories :- One of the best features for the business owner is add/delete/edit option means if any properties which sold then it can be deleted, if any new can add as well as they can edit the categories as well.
Profile creation and management :- When any owners registers into the estate portal, the portal owner will be able to generate their profile and continue to manage them, by keeping eye on all of them.
Manage property:- The owner of the portal can manage various property listed on their portal.
Billing options :- In earlier days it was difficult for the agent and brokers a tough time running after people for their share of the money, as this become very easier to manage in the portal. There are various billing options are avaialbe to the users and they can pick
Manage users:-The business owner will able to manage all the users who registered to the portal quite easily and efficiently.
Real Estate portal features for Admin:- There are some essential features a real estate portal must have as follows
Features real estate:- Utilizing this admin will manage all the featured related to property listing which add all features ,listing in various categories.
Advertisement management:- Various option all available to advertise on the real estate portal as well it will give the business owners an extra option to earn.
Social sharing:- One of the effective features as by sharing all about a property on various social media channels and get easy to catch the eyes of customers
Language Management:- As we know now a days every person knows about internet but it is not necessary all knows english for this other language are also supported.
Publish property in any city or country:- On portal admin the user agent can publish a property in any country or any city which users can like. For Admin have to manage this all location of the property listing.
Some of the Extra and common features for Real Estate portal development
Following are the common features for real estate portal development to every users as per their requirement.
Marketing tools
Listing Database
Advanced SEO tools
User management
Presentation tools
Content management tools
Loan calculator
Property details page
Ability to handle multiple users
Lead generation tools
Also A Good Read: Top 50 Mobile App Ideas To Change The Business Trend
Create a beautiful Real Estate portal
One of the best leading web design and development company that is highly expertise in the real estate portal designing and development. The company offers all webservices under one roof. The highly professional expert team in the real estate portal development industry focuses on providing different winning technology solutions for real estate by completing with every real estate solution.
The best portal development company aim to deliver real estate marketing solutions to customers that create real returns from the web presence. Our most famous design for the real estate industry and offers much more than a basic web design. The best responsive portal served by our highly professional team is competent to build a masterpiece for your online business.
Wrapping up:-
Hope you have understood the importance of having a real estate portal for successfully running your business. If you have decided to develop a real estate portal, don't hesitate to get in touch with us to share your idea. We will stand by your opinion and help you bring it to life.