Inquire Now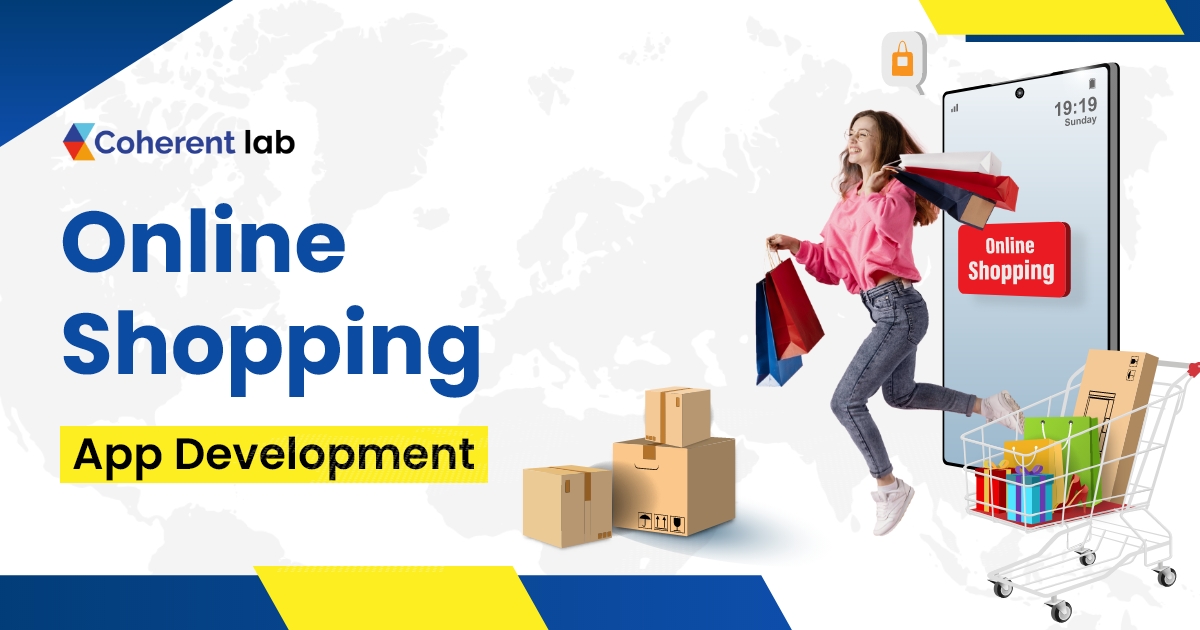 Shopping app development has become a lifestyle choice, especially with a broad group of consumers. However, users are finding a very easy way to shop online since the dawn of the online shopping industry. The change has given rise to an enormous users base and ever-greater revenue. Online shopping apps are becoming more like a lifestyle choice. With half of our world population having a smartphone in their pockets. However, simply launching a website to sell products online is not enough. Around us, we see that 85% of the ratios are smartphones users who purchase their products by utilizing their mobile devices. Additionally, some people have a phone and a laptop device which is not surprising.
In online shopping app development where you can have any type of product. That includes clothes, shoes, cosmetics, groceries, pharma, sports, hobby, kitchen appliances, computer hardware, electronics and much more. However, shopping app development is gaining popularity day by day. Before the covid-19 pandemic, the retail industry has undergone significant changes. The hassle of turning on your desktop login with just a touch brings online shopping to your fingertips. However, it is to say that increasing the use of smartphones has brought a boom in the online shopping industry.
Online shopping app is now everywhere. Users find it much easier to shop online rather than go to stores. However, if anyone goes to the store, use mobile apps for reviews and price comparisons. So, it is said that online apps are everywhere is true. This blog will let you know about almost every aspect of online shopping app development. That what are the features, cost, benefits of shopping app development.
Also A Good Read: Music Streaming App Development (Working, Features, Types and Cost)
Features of Online Shopping App Development
Online shopping app is essential for everyone's life. Mobile apps are highly used as a lifestyle rather than a technology solution. However, users are highly relying on online stores due to their product, reviews, feedback and price comparison. However, the features of an online shopping application should stand out.
Admin panel of online shopping app
Dashboard management: - Admin plays an important role in the application. However, the admin investigates the applications working with different controls, generally all embedded in a single dashboard.
Product management: - Admin is handling the whole app. Here the admin manages the details of the product that are being sold on the app.
Manage users/sellers: - Admin manages the users' and sellers' details. Admin has all rights to manage the details of sellers of stores that sell the product in the app. Additionally, the admin also manages the user's details that what are purchases done through users etc.
Product Add/ remove: - Some new products are added to the online shopping app, and sometimes some product's stock is not available from the seller, then they are temporary base removed from the app.
Inventory management: - Previously, only we have discussed that admin plays an important role so admin can update the stock. Admin manage that how much product are to be packed, returned orders, and many more.
Payment management: - There are some essential information about the payment and billing is available to admin only. The admin only generates the payments reports.
Order tracking: - Admin can track the product delivery status and guarantee a faster delivery to the users.
Offers and Discount: - One of the important features is offers and discount that how users attract to buy the product. Admin can generate and modify the new discount, coupon codes, offers etc. in order to increases more sales.
Also A Good Read: Matrimonial portal development Benefits, Features, and Cost
Customer App of online shopping app
Easy Registration: - After the app is download the first step for the customers is to do registration in the application. Here customer have to fill the required things which is being asked. However, the users can also do registration with the help of their email id or social media sites.
Profile management: - Customers can modify their profile details such as address, phone number, profile picture, contacts details etc.
Search for product: - After the registration process is completed now its time for the users to search for product which is required or wish to purchase. Search bar is powered by the filters that sort through various categories and product attributes.
Product categories: - Various product is sorted into distinct categories to help customers browse them with ease.
Add to cart: - Customers can add the product to the cart and facilitate the immediate checkout process.
Multiple language support: - One of the important features this should be in every app because it is part of the language. Leverage the global audience with multiple language support in our online shopping app without any hassle.
Multiple payment support: - Now it's time for the payment. After the shopping is completed, the customer can choose multiple payment modes. Customers can pay through online banking, credit/debit card, cash on delivery and much more.
Review and Rating: - Customers can give or write the review/rating of products they've purchased. However, these features are also helpful for increasing the customers' engagement.
Advanced features: - The online shopping market is amassing with contests, and appealing Ui/UX is not the only main thing that will help you much. Long-term success relies upon the assistance and experience you give your clients. Also, it is constantly smart to consolidate a few progressed highlights in your online shopping application to make it as exciting however much as could be expected. Notwithstanding, there is no bar with regards to making new
Push notification: All users see that there are hundreds of push notifications in a day from the apps installed on our smart mobile phones. It is one of the advanced features in online shopping app development because that should be mentioned at the time. Push notifications act as a constant reminder to the customers when any new product is launched or if any product is on sale. Moreover, these features help to generate more sales. So, push notifications features have made absolutely important for a shopping application.
Social login/signup: - Permitting customers to sign up and information exchange to your online shopping app might appear to be an ordinary thought however it is really exceptional. You have to make sure that login/signup should go as smoothly as possible. However, in the online shopping app, you can imagine that you can log in into a shopping app with your email id or other social media sites like Facebook, Instagram etc. With the social media signup login, the customers can log in with only just one tap.
Filter and search options: - One of the advanced features for the online shopping app is filter options. It saves the time of users. With these features, users can search for the product that they need it. Only users have to write the name of the product they want, and various lists of the product of different companies are listed.
Chatbot for customer support: - Chatbot support makes any ecommerce app more interactive. A chatbot gives answers to the general question which is asked by the customers. The chatbot saves a huge amount of time. However, a chatbot is always a great addition to your online shopping mobile app.
Multiple Payment Gateways: - Many users required to get something from your app but doesn't get a favourable payment option and will leave the app. However, users should have multiple payment gateway options to pay. Payment is one of the important parts where users need safe because they are entering the bank account details. However, users only trust the payment option, which they highly see. Some sites highly preferring and allow net banking like credit/debit card payments. Some users may also want to pay through PayPal or Paytm wallet.
Google Analytics: - One of the most important advanced features is Google Analytics. After your app is running and going on smoothly you are very eager to know which product is sold most. Additionally, do you know during which time frame does your app have maximum users. To measure this all and full potential use Google Analytics for your online shopping app. Google Analytics is allowing almost every mobile app feature list and it's so for a reason. With this features Google Analytics, you can find out which products are selling more, how they interact with the app and many more. This information will highly help in planning the strategies for user's acquisition.
Rating and feedback: - One of the common features of the online shopping app. Whenever users give the feedback should be careful that it helps or guide to improve the app. Keeping in mind that the app is for users' satisfaction and should be built as good as possible. Moreover, there is another option also available that is a rating option which is usually represented with five stars.
Wish list: - Another advanced feature is that wish list. Not to try to ignore it because as it is highly use for the users. Your online shopping app will probably have tons of products and it is impossible to find the same product once you have closed the app. But, whenever any users like to the product, he/she should click on the wish list button. It is one kind of the bookmark for the product which users would like to come back and check again. However, many online shopping app also notify the users there is an offer on the product on their wish list.
Product Videos: - One of the latest trends that highly found in shopping app to show the video with picture. However, a video is a more impressive experience for the customer and give the better idea of the product as well. It is a very important and easy feature for your users.
Also A Good Read: On-Demand Milk Delivery App Development: Working, Features, Cost
How much its cost for developing an online shopping app
Now its time for the questions related to the cost that how much its exactly cost to develop online shopping app. Be honest, as there are many features that highly affect the overall cost of the shopping app. There are various factors as follows. Number of features
Number of platforms
Region of development
Any businesses estimate a development cost off their future app, first of all, they need to factor in a development team location and app complexity. Both factors have a great impact on an overall development cost. Both android and iOS platform have high rate because it is a smart strategy for the business that go to mobile to develop app for both platform. However, the cost of development between the number of features that the owner required to include. So, it's up to the owner to decide what type of app you want at the beginning of your shopping app business. If the complexity is more in the app, then the cost is high.
There are many app developments companies that says it will complete in the 15 days but it's wrong. Because for the app development there are many steps to be followed like designing, coding, testing etc so this all required lot of times. So, the working hours of the app development is also more. However, various mobile app developers work on an hourly basis. You can hire the best app developers for an hourly basis also. You can also hire expert app developers on hourly basis, weekly basis, and monthly basis according to the client needs.
Also A Good Read: Flight Booking Mobile App Development: Meaning, Advanced Features, and Benefit-Cost
The rate for the hourly basis is start from $100-$120. If you decide to move the online shopping app development, the total budget for a shopping app will be about $20,000 to $22000.
Contact us to get a quote and learn more about online shopping app development costs. Vast experience in various fields, including eCommerce, plumber app, carpenter app, allows us to build solutions that stand out in the market. If you want quality, smooth communication and reality, then generate online shopping app development with us.
Wrapping up: -
Online shopping app development is long and complex. Various required things are involved in the shopping app development as of right from vendor to end. An expert team delivers you the best online shopping app according to your requirement. We have discussed that there are many highly helpful features and needs for the app. So, if you want to make your online shopping app successful, then no waiting. Call or email us at any time. We will revert back as soon as possible.