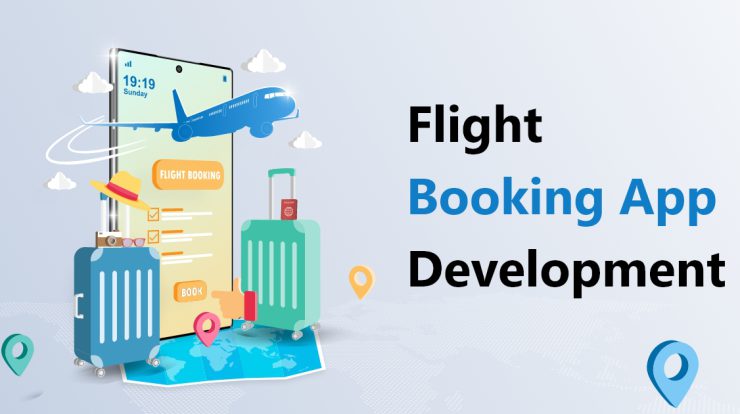 These days Technology is drastically changing various kinds of services are available for people with the help of mobile apps. Traditional flight booking is now moving into the digital platform. It said that the flight booking app is the new feeling in the town. With the help of the Flight Booking mobile application, you may now go anywhere in the world in your own time and style.
Nowadays, travellers spend around one week researching their holiday while some travellers already have booked their flight 3 months before their travel date. As advanced booking, the users get more discount also. There are various types of flight booking apps are available like MakeMyTrip, TripAdvisor, goibibo, Hopper, etc. which already gained huge success in the same.
Travelling through flight all over the world has become a more convenient and enjoyable way to be everything so fast, efficiently, and time-saving. In this article, a deep knowledge of flight booking app its advanced features, costing, meaning, etc., and other details.
The demand for flight booking app has increased a lot. Travel the world your way with the all-new in Flight booking app. The app helps you from booking to boarding to managing your travel, get ready for a hassle-free experience with the best flight booking app. Having various features like meal selection, booking notifications, special deals, details on the destination, planning a trip at the lowest airfare is now at your fingertips. Building an application for flight ticket booking is a booming for all regular travellers.
Also A Good Read: Restaurant mobile app development: Features, Type, Cost and Importance
What is Flight Booking App?
In simple words Flight booking application allows any user to search for a flight from anywhere and it shows available flights and prices. In another word, it can also be said that Flight means travelling by air, Booking means confirming something like finalizing for travelling, the app is your application which helps in making your flight booking. .
Top Benefits of Flight booking App:- All knows that all things are now online by just touching few buttons. From shopping to booking tickets, you will do all the things smoothly and easy manner. As far there are top benefits of having a flight booking app. First thing you should not wait in the airport to stand in queues for all necessary process. It will be easy for the users to organize a trips in a time-saving and cost-effective manner. Let's now see a few benefits of the flight booking app.
Also A Good Read: Aggregator app development : Meaning of Aggregator, Type of Aggregator
Easy to book Ticket:- Apps makes it easier to book tickets for flights. Users can highly utilize their smartphones, tablets or another device to book their flight tickets. Browse choose the suitable time and day to book tickets.
Time saver:- First traditional ticket booking system was time-consuming. Here you will find very affordable flight tickets, booking hours and many more. There is no need to reach any representative and wait. The online flight booking app gives you several benefits.
Changes of travel and Cancellations:- First it was difficult to cancel your travel tickets. As there is no need of calling their airlines agent now just only with a single tap button the tickets can be cancelled or you can change the date of travel. If you cancel your ticket before 24 hours the whole fund will get back and there are some airlines offering booking without cancellation fees.
Early check-Ins:- If you want to fly anywhere then you need to reach the airport 5-6 hours early or if travelling international flight then you have to reach to airports 12-15 hours early. As through the flight booking app, this all become easy and time-saving. Users no need to rush for verification of documents as all other formalities. All the things are done virtually on the app itself as it saves lot of time and no need to reach too early at airports also.
Refund over Cancellations:- It is one of the best benefits due to some reasons when you cancel your tickets. As Now flight booking permits you easy refunds after you cancel your flights. All the funds are directly refunded into your bank accounts.
Also A Good Read: B2C Portal Development Benefits, Various Type of Models, Advantages
Rich Features for Flight booking Mobile application:- For creating any apps first thing is that you always have to put some best features into your flight booking app development or any others. Here is a discussion of common features that can be integrated into the apps.
Customer Panel:- Customer panel is an important and most interesting part of any app. Due to the customer, an app makes a better market. It covers all the below aspects of the service.
Quick Login/Sign up:- Not only in this flight booking app but every app user easy log in to link all the services faster. The users need to fill in some of the necessary personal information like email id, phone number and many more. You can either have signed up for the process through your social media login process also.
Flight Schedules:- One of the important features this feature gives passengers all details about the flight by only entering the destination and time. You can find travel details for the preferred date and know the cost and availability also.
Booking Status:- Users can get fast access to the booking status including details like confirmation, cancellations and many more. As passengers can check on the booking status that your seat is confirmed or not.
Flight Booking:- Flight booking is made easier through by only a few finger clicks. The passenger can get flight ticket booking through the app from anywhere and everywhere.
Check-In:- In this section airport check-ins can be updated and users get notification of check-in.
Rating and Review:- Today's time the customers are very much interested in giving reviews and rating about services of apps etc. In this section users shares all about their experience of flight.
Make Payments:- Now customers can choose the various options for the payment for the flight book. Customers can make the payment through credit card, debit card, or various options to choose from.
Also A Good Read: Plumber App Development Services Advantages, Features, Working, and Cost
Admin Panel:- This is an admin panel where all things of the app back-hand are managed by the admin and get various views of the entire system.
Manage All booking:- Services provider manages the different booking coming through their ways from the customers.
Manage offers:- The offers come as per the airlines. The services providers will be able to manage all the special offers which they give to their passengers at the time of flight booking.
Support Multiple languages:- The application support multiple languages so that easy communication and management services and supports. From starting login language set-up is something that all basic requirement when it comes in app for login. It should be simple and no complexities. As applicant can set-up there own language and change them according there needs. It supports various languages.
Also A Good Read: Features & Cost For Developing Doctor Prescription Reader App – (Prescribe Anytime Anywhere)
Customer Support:- In this features the customer will be provided support from the service provider. It will help the admin to connect with the customers in a few clicks and help the customers with the required answers when needed.
Manage all ticket booking:- The admin will manage all the ticket booking which done from the customer side and if any required information to be given to the customers
Chatbot:- It is one of the important and needs in the flight booking app as the chatbot will help to both admin and customers if any queries of users to be solved by similar keywords and passing on out generated answers. The support of this facility is available 24*7.
View Reviews:- Admin can check the reviews which is provided by the customers. And this is one of the best features while if any relevant actions is needed to take in the future. If any improvement is needed for the app.
Receive Payments:- Admin can check for the payments made by the users or access information about the same. The Admin can manage all the customer's payments which way is done either credit card, debit card, Google Pay etc.
Advanced features:-
It is very important to offer something different to the customers for making the app successful. All each and every app needs proper Research and Development before finalizing solutions. Additional features can be integrated with the application to Accenture the performance and user experience.
Also A Good Read: Packers and Movers App Development – Features & Cost
Push Notification:- The most demand and famous in-app is push notification which offers the users information about the latest discount, and other alerts which is highly helpful for regular customers to get benefits.
Social media integration:- Current period social media is known to be a new way of life. There are various social media platforms like Facebook, Instagram, Twitter that should be included in the flight booking app. You should offer social media icons on your app by the way you can share the information about the trips with their group's member or family member.
Payment Gateway:- Payment gateway with high security is recommended these days. One should consider that app development with the payment gateway security is the pioneer thing one should take into consideration. The whole details of the users at the time of transaction of flight booking must be safe and secure.
Booking Discount:- Anytime any users books a ticket first time with the app, or book a ticket in bulk, offering a discount is best. These types of features make them a top priority for them.
Price Comparison:- Users always need cheaper options. It is a reason why users are required to compare various alternatives. It is possible for the price comparison.
Email notifications:- Email notifications should be there in the app for smooth and quick communication based on any updates as the user can know during his trip.
Cabin Maps:- Cabin maps permit users for the real-time visualisation of the cabin so that users can select the seating arrangement according to their requirements.
How much does it cost for developing a Flight booking Application:-
The cost of flight booking application development is not easy to estimate. If you add more advanced features for the customers, the cost highly derives from the regular cost to develop the the app. The cost can be estimated according to the features then it would range between $70 to $120 per hour. If anyone tells the app's development in a week, it's not easy to develop because it takes a lot of time and effort. It takes various steps from designing, coding, testing so it takes thousands of hours to develop the best flight booking application. Additionally, the cost may vary depending on the chosen OS platform, website, various functionality added that you want to integrate.
Integration payment functionalities into the application ensures payment transactions are exceuted instantaneously and securely without any trouble. As the various additional multiple payment integration cost additionally. The estimated cost of a travel app development can range from $50,000 to $90,000.We offer you the best on-demand mobile app development services in the budget that are too completed within the deadlines.
Technology utilised for Developing Flight Booking App:
Front End (For Mobile App or Website)
HTML 5
CSS3
Android & iOS
ReactJS
Flutter
Angular JS
Back End (For Mobile App or Website)
My SQL
NodeJS'
PHP
.Net Core
Postgress
Wrapping up:-
The flight booking app development is presently booming, gives good chance for business growth and people are relying on mobile apps for easy trips. One of the important features is to make lives easier. It gives easy platform for every individual to get access to a simple online flight booking facility. The whole cost of app development depends upon the number of features that wish to include. Our expert will help you to bring out the best in your ideas and build the product that helps you thrive.