Restaurant mobile app development: Features, Type, Cost and Importance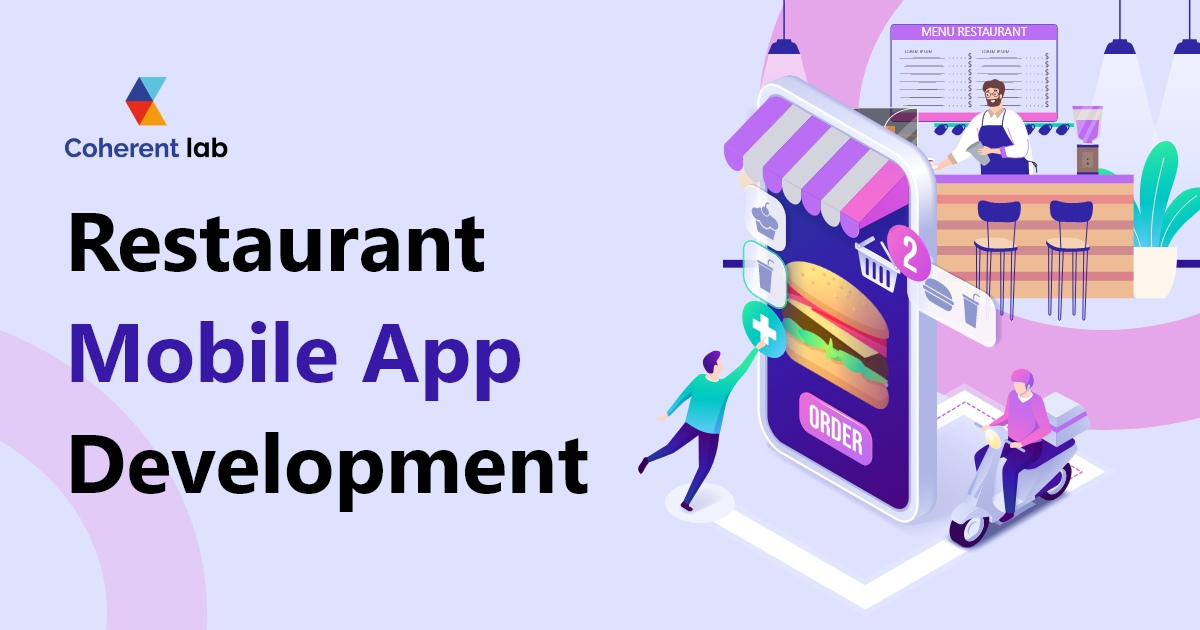 In this period, we're all living in the digital world, thanks to the Coronavirus Pandemic as it also thought the importance of technology. In everyday routine, the need for technology exists almost every time let's start from the daily morning when we wake up till the night the day end.
Today all everyone is highly busy with their mobile, whether it can be shopping, banking, food, etc., much more. Nowadays, when it comes to food, people prefer to order online rather than going physically to a nearby restaurant. There are various famous Restaurant apps available to order food from anywhere and from any place of your choice. At the time, everything shut down, and everybody was forced to stay home, as the restaurant continued food delivery to those who were highly needed it. Many students and employees stay alone without any kitchens and rely on online food delivery. At that time, the Restaurant app is highly helpful to order food.
Restaurant app development is highly beneficial for both parties like businessmen and customers. The Restaurant app development has to have the highest profit and more customers. Those who are involved in the food business can go with this restaurant app development to get more benefits and increase profit. As customers deliver their food at the doorstep while on the other hand restaurant make extra sales and receive more profits.
Restaurant mobile app that highly needs to customer to make not only to get food at the doorstep but making reservations, order takeout, or update dining preferences. As look at the percentage than 70% of people is opting to order food online through various apps like Zomato, Swiggy, etc.
Also A Good Read: B2C Portal Development Benefits, Various Type of Models, Advantages
Serving your consumers with a digital menu, food ordering, online payment, and many more in an app are new trends restaurants are adopting. Restaurant mobile app development is skyrocketing and highly will remain a best profitable niche for coming years also. So as not to waste time as our expert team in restaurant app development, today discussing some important crucial steps which you can generate restaurant apps with less effort. So without wasting a single minute, let's get started.
Type of Restaurant Mobile app: Once it is decided to go with an app to your online food business platform, the next step is now first what is requirement and which type of app is suitable for the development. But some time users are thinking that all the below list of app is having same functionality its wrong each and every application has its own functionality. Many might not be aware of here are some of the most popular for running smoothly your online food businesses.
Also A Good Read: Real Estate Portal Development – What Are The Benefits Of Estate Portal
A Restaurant review app: A restaurant review app lets the customer check out the reviews about the restaurant, food services and get more detailed about them.
Table booking app: - Nobody has free timing now a days and will prefer losing their valuable consumers in the weekend rush. The table booking app is one of the great advantages for the restaurant as it can work seamlessly and attend to all customers properly and easy-going manner.
Highly beneficial for customers to reserve the table, date, food ordering, etc. this is highly useful and most important for restaurant app development. This is helpful for the business owner and customers too.
Food delivery app: - Online food delivery app is used for food delivery as customers get the food at their door-step only by allowing their location in the app. In this case the owner of the restaurant has a food ordering app but cannot give the delivery services for some reason.
Promotional and loyalty program app:- One of the biggest point and benefit to the customers. This app sends the notification to the customer so they attract their interest on some particular discount or offer given by the Restaurant. In some particular season, the day this boosts the sale.
Restaurant finding app: - Restaurant finding app is one of the best in order to find restaurants in a particular location. This also allows you to find reviews, menu and many more.
Delivery Tracking App: - This type of app is best one to increase the customer experience and as it permits the restaurant to keep track of the driver to the destination.
Various steps to build the best Restaurant app: - So, various steps to build a restaurant app for your business. App development for restaurants is not a simple process. It takes time, and it consists of various stages like
Do business research and conduct market
Set your business goals
Select best restaurant app development company
Finalize on the app functionality
Choose a tech stack
Design restaurant app
Develop an app
Test, deploy and launch the app.
First, start marketing
Collect and analyse user feedback
Start ongoing development and support.
So, these are some of the necessary steps which are taken into consideration while build best restaurant app. Now it's time to see the best features of a successful restaurant app.
Also A Good Read: Packers and Movers App Development – Features & Cost
Features for Admin: -
Site settings: - This is one of the features of a restaurant admin app which permits you to design a general look and data which is needed for your website as site name, logo and many more. Moreover, this makes it very easier for you to design a website suite your business needs.
Payment settings: - Giving your customers various options is one of the great benefits. As adding various payment option to your food ordering app is one of the best way to understand your customers. Integrate advanced payment methods into your restaurant apps development like a credit card, debit card, mobile payment or cash on delivery, and many other ways.
Delivery zone setting: - Delivery zone setting features assign you to deliver locations-wise to a particular delivery partner. Going through this method which ensures robust and speedy deliveries and also makes your business famous.
Profile and Analytics: - It is one of the important and main features of the admin panel where the mobile restaurant app allows the customer to get a huge amount of the database. The database is highly useful to view orders from the start of delivery to its absolute acceptance by the customers. The analytics features of the app also gives detailed records of daily sales, daily online payment, commission and much more.
Customer management: - Customer management features of the restaurant app development where all aspects of the customer's experience like sign up, profile of the customers, and all details of the customer's account can be managed.
Category management: - Manage the various category of the item's characteristics to sell the food item of any range of quantity.
Also A Good Read: Features & Cost For Developing Doctor Prescription Reader App – (Prescribe Anytime Anywhere)
Features for Restaurant owners: - Restaurant mobile app development is one of the best ways to launch target market campaigns, inform your customers about your restaurant's latest activity and events taking place, and other latest food which is added to your menu. Here are some features that can make the restaurant app more best way.
Staff management: - For every business, the staff management should be there as these features help you manage the staff and increase the efficiency you must have. This not only manages the staff in your restaurant but also helps to track the performance of the staff to date. It helps you to make necessary changes based on your employee's performance.
Kitchen management: - One of the main purposes of this feature is coordination between the waiters and chefs. It also helps all the miscommunication between them and, as a result, increases production with less time.
Restaurant review: - The restaurant reviews are given by the customers, and these reviews promote your restaurant by highlighting more SEO-friendly reviews. However, customers review and generate a good image of your restaurant in front of your new customers.
Order management: - Order management features to manage all aspects of order size reject or accept the orders, food preparation status, and delivery of best food and services.
Food items management: - Restaurant app offers you the best flexibility to allow the current offerings and food products into the app.
Restaurant open and close timings: - This is one of the best features where you will get the information of restaurant open and close timing as it helps to set time as want by owners.
Features for Users: -
Register Profile: - It is the very first step into the restaurant app for customers and 1st step when users interact with the app. In this, users have to enter all their personal information, including delivery address, into the app. It also includes social media website options to make registration easier and safer.
Search Restaurants: - After the registration process is completed, the users will search for the best restaurants nearby area. It is going easier for the users to find what they wanted to eat. There were various lists to find the best restaurants.
Add to cart: - It is one of the important features of the Restaurant app. This helps the users with ordering food from more than one location—careful no need to place an order twice.
Real-time Tracking: - Users are very eager to know where the delivery man reached. But there is no need to make the wait users can track easily and see the progress of their order status with live updates of the location.
Table reservation: - Restaurant may be small but having more popular in the market sometimes customer finds it difficult to get a table. These are the best features which help customers to get a table and no longer wait to get tables and get the best opportunity to perfectly plan their evening.
Chatbots: - It is one best feature that helps users to call the delivery/driver person and find out the status of the order and give some guidelines which are needed for the delivery/driver person to deliver your order.
Review and Rating: - Review and Rating is highly useful for the Restaurant where users give reviews and ratings to the restaurant on various parameters based on quality, services, hygiene, and many more.
Schedule for order: - Users can schedule to order the food according to the required time needed.
Payment method: - After all orders are completed, users have to check the secure feature to make the payment by utilizing various modes of payment like debit card, credit card, or other available modes.
Also A Good Read: Get the best on-demand electrician app to bring up your business
There are some additional features available as below
Social media integration like Facebook, Instagram and many more.
Various multiple payment method.
Live Google Maps giving users with easy navigation and directions
The contact number to allow the customers and can call with just a single tap without the required to leave the app.
It allows live order monitoring to ensure that customers will get a meal on time or not.
Push notification to the customer if any special latest special offer.
Why use the Restaurant App and reason for developing?
There are mainly a few reasons for developing restaurant mobile app development for your restaurant.
Helping restaurant owners to sever more number of customers at the same time
Customers will place order more often due to its convenience only just by a few finger click on a button to get what they want.
An application with strong usefulness can persuade clients to visit your restaurant all the more frequently.
A restaurant application can assist your restaurant with making a customer base, study statistics. You can then utilize that data to increase business.
There's a lot of advice out there, and how it is important, it is to develop a mobile app.
View Restaurant menu and prices
Search for nearby Restaurants
Check hours of operations
Look Restaurant review
Order food online
Search for a restaurant contact number
Make a reservation
Check for reward/ benefit
Post a review regarding experience
How Much Does It Cost to generate a restaurant app?
Once a restaurant owner has decided they want to develop an app for the business first question in the mind will about cost. Its facts that and straight forward that the cost totally depends upon the features which clients demand. The clients also think that how much hours daily need to develop and what is desired platform is. Restaurant app development cost is highly depending upon mobile app features.
Not only the Restaurant app but every application development required time as it also time consuming because from designing, testing, coding and much more. So it is not easy and it will not have completed in few couple of days as it takes time. Calculating the actual cost of developing a restaurant app is little bit complex task as it takes many factors into consideration. Every business has their specific needs to satisfy and those needs some extra features.
However, the cost to build restaurant app is somewhere between 1500$ - 7000$ comprehending basic features such as online delivery. Cost also can be calculated on a hourly basis, weekly basis depending upon the market. If you are looking to establish a best online restaurant app for your restaurant by giving smooth online ordering and delivery services option to your customers, get in touch with us. Our highly qualified expert team will understand your basic requirement and create best customized solutions for your business.
Wrapping up: -
Today digital world all the things online. Mobile technologies are one of the most important in the restaurant business. Developing restaurant app is a greatly help engage customer, increase loyalty, and grow more profit. If having small restaurant customers will be so happy if you generate a best high quality user-friendly app. Our Highly qualified professional team will help you to create a best restaurant app and choose the best features according to your business needs. So, why to wait contact us for restaurant app development.