Inquire Now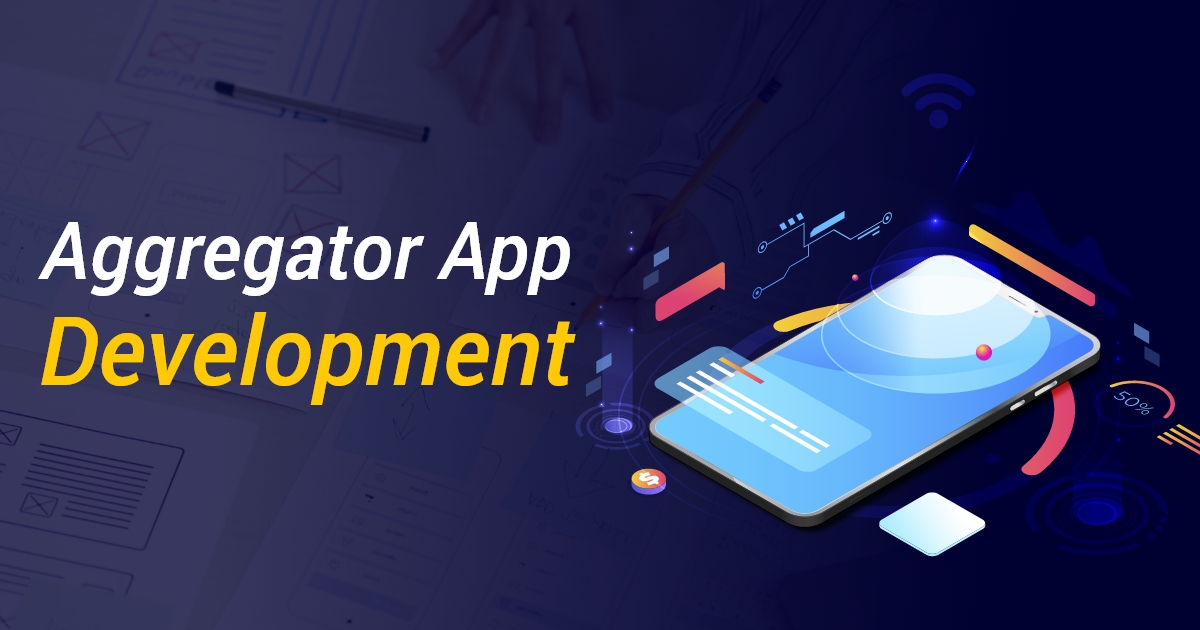 Assuming that you have done any of these things you have utilized a site known as an aggregator The first thing to understand is that aggregator sites is it can be said in an easy manner that are websites in which related content concerning data about various products and services from various organizations or potentially providers is assembled and coordinated in one place. With this aggregator app development, the aggregator site has its own elements that go into an agreement or partnership with the suppliers of the information, products or services to include this content on its websites. Consequently, the aggregators help these service specialists gain more clients ordinarily for a specific fee or on a commission basis.
In this digital world, there are thousands of millions of websites and an unending flow of the information on the internet. Aggregators give you the services of collecting and compiling the same and necessary information on one website. There are various types of aggregators, its services and much more available. There are many examples which are successful aggregators which benefit their partners like Amazon, Zillow, GrubHub much more.
We are seeing the market that big boom in the world of digital marketing. All big organizations and brands of the world have their own website, not only websites but they are in various social media sites like Instagram, Facebook, Twitter etc. With the beginning of digitization, the on demand Grocery App development is one of the greatest tech ventures today. Their many businesses are growing in this digital world and it has transformed the industry and it is highly seen in many sectors like cabs, hotels, travel, health much more. Now depending on the various requirements of a particular sector the nature and task of compiling any information may vary. So this is the main reason there is a need for various types of aggregators functioning today.
Also A Good Read: B2C Portal Development Benefits, Various Type of Models, Advantages
So not to wait, launch off your own on demand Aggregators app and raise a climate of powerful community engagement strategy, increase clients commitment, offer moment new updates and consistently stay one step in front of your competition.
What do you mean by Aggregator App?
Aggregator app is a web application that draws together syndicated content from different internet sources and that is displayed in one location for viewing that can be said as Aggregator app. There are many types of aggregator apps like News aggregator, search aggregator, review aggregator and many more.
Types of Aggregator:- There are many different types of aggregators, from which some of them are most common types as below.
Search Aggregators:- The Search Aggregators is highly classified as meta search engines as they simultaneously aggregate results from different search engines on various topics which are specified by the users. The search aggregators permit users to search what they are looking for in the most smooth ways.
Review Aggregator:- Review aggregator is like which collects reviews of the product and services i.e films books, games, software, hardware and much more. The framework which stores the reviews and utilizes them for different purposes like supporting a website where users can view the reviews, offering information to third parties about consumer tendencies and generating a database for companies to learn about their actual and potential clients.
Shopping Aggregators:- Nowadays there are various types of online shopping websites which are highly helpful for customers. The website where a wide range of products are selling. Shopping aggregators collate results of different shopping engines and offer price, product, rating/review comparison. These shopping aggregators are the most famous sites on the web especially since they usually give the best proper value, reliable results i.e eBay, Amazon, Flipcart etc.
Real Estate Aggregators:- Real Estate Aggregators are different websites or software applications that gather information and show relating to the real estate and MLS listing from various sources. Real Estate aggregators primarily target home hunters, first time home buyers, display the price of the home, its details and available deals as listed on various popular property websites.
Jobs Aggregators:- Job Aggregators are websites or software applications that aggregate job postings from different careers sites, employer job listings and other job posting sites. Nowadays there are various platforms including LinkedIn, Google jobs, Indeed, Monster etc. much more.
Social Network Aggregators:- Social media aggregators where the process of collecting, curating, and re-purposing content from different social media platforms and presenting it in a single or various multiple feeds on channels like websites, digital screens etc. Social aggregators are those applications or websites which aggregate information from social media sites like Instagram, Flickr, Twitter, Facebook and much more. It is also known as real-time feed aggregators.
Content Aggregators:- They aggregate news and updates from different online sources. Produce your own content aggregator website like Buzzfeed, In short etc much more and deliver content for an ideal engagement. Update web content from various online resources and display them at a specific location.
Video Aggregators:- Aggregate content from different online video sites and coordinate them in various arranged records. There is one of the most famous platforms to access and watch videos is YouTube. There are lakhs of videos published on that site and every day a huge amount of videos is published. They compile the same kinds of videos available on the platform to help users find what they are looking for. One such example is the Daily Tube.
Poll Aggregators:- Examine individual assessment of poll results led by different associations to estimate public opinion on important matters. Aggregators are useful in the U.S presidential elections because the presidency is determined by the winner of the state elections and not by simple popular vote of the world.
News Aggregators:- News aggregators which is also known as feed aggregators. As the name only suggests that this website compiles information from the newspapers, e-paper, blogs, videos, sites and much more. It compiles somewhat the same information into one page so that users can read it very easily. Searching for different websites and sources to view content can get time-consuming and tiring. So the news aggregators utilized RSS technology to exact and combine this information in one place. There are various examples like Google news, Scribd, Huffington Post and many more.
Also A Good Read: Real Estate Portal Development – What Are The Benefits Of Estate Portal
Main Advantages of Aggregator Business model:
There are various types of advantages of aggregators as there are various main advantages also.
Less work since you will be working in an association.
It saves clients/customer time that they would in any case spend, bouncing from one site to another and looking at costs.
It guarantees uniform quality and cost.
It is very easy for service based businesses to find customers and vice-versa.
You can incorporate reviews to make it simpler for clients to find a trusted product or service.
Also A Good Read: Pregnancy Tracker App: The Best Technological Help You Can Have
Attributes of Aggregator business model :- There are various types of aggregators that serve a wide range of industries. Moreover, the aggregator business model will always have the following attributes.
Industry:- All the offering providers belong to the same industry. All products and services co-ops related with a specific aggregator have a place with something similar or comparable ventures.
Customers:- The aggregator business model has a twofold customer base: its partners and the consumers which visit its site to make buys or book services. The business has to cater to not only its offering consumers but also has to treat its partners as another set of customers. Partners have a choice to select the competitors over the company. Hence the organization builds a brand in such a way so as to attract both the parties to use this platform and develop a network effect.
Partnership :- The aggregator business model is based on the partnership also this is between the providers and aggregator. On contract bases they are business partners of the aggregator and are free to make independent business decisions. The providers are not employees of the aggregator. The aggregators assume no ownership of the providers products and services. In terms of partnership are explained in a contract that is signed by both parties.
Branding:- For any business the brand is an most important attribute. The aggregators spend the most of their time on the building up a brand. Brand has various features like quality, price, on time delivery and much more. All the goods and services are done by one provider under only a single brand with various providers. The providers who partner with an aggregator will get a huge amount from their strong brand awareness.
Contracts:- Contract is signed between both the aggregator and good/service providers with all partnership and commission terms of each sale or either collects the fee while the provider gets some percent of the sale. The term contracts gives win-win situations for both parties where the providers highly focus on giving good product/services to its customers and aggregators are focusing on the marketing and generating more leads for the partners.
Also A Good Read: Packers and Movers App Development – Features & Cost
Working of Aggregator Business model:
The working of aggregator business model is very simple and goes step by step.
Aggregator gets in contact with the provider offering a best partnership plan
After the partnership plan the provider and aggregator sign up an contract and becoming the partner
The aggregator generates a network of partnerships.
The aggregator invests the best marketing strategy to empower its brand.
Users get attracted by aggregators and buy the necessary things through its platform.
Partners get their customers and aggregators get its commission.
How much it cost to build a aggregator app:-
The cost of developing an aggregator app would depend upon a number of factors. As it depends on several aspects like features, your need in the app, technology to choose, development platform, which company to choose, country of a developer and many more. The task is not so simple to develop, it requires time. As there are a lot of things to consider when aggregator app development. There are various types of aggregators available. It is good to think about which is suitable for your business.
Also A Good Read: Features & Cost For Developing Doctor Prescription Reader App – (Prescribe Anytime Anywhere)
More important thing is that there are lots of aggregator apps available so it is important to take a look at the competition so that you can create some unique and best app. As there are many professional expert teams which are available for hourly bases, choice is your to choose for your app development.
Wrapping Up:-
Nowadays it is very common for aggregator app development to be born in the digital world because the internet has given scalability to the business and has made all processes very easier and safer. With the neligible expense and monstrous advantages, an aggregator app is the right investment to build and develop your business across a wider audience and drive more beneficial outcomes. There are many benefits of developing this app. So not to wait to go for aggregator app development to move your business in the best manner.