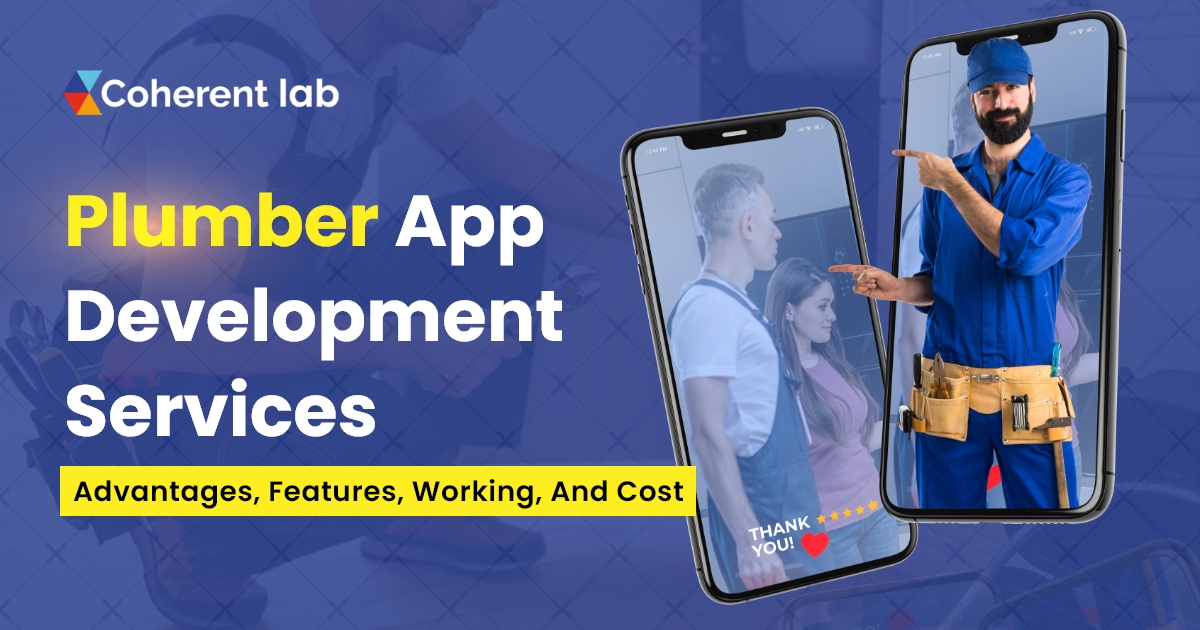 It is water overflowing from the pipe or the tap that continues to flow and flow, and sometimes it also damages the house. It is not necessary that only due to overflow of water we need the plumber, problems like blockage of your house or workplace pipelines. Still, there are various requirements like leakage of water or overflowing of water from pipes or tap, and the house looks not proper.
For this time, when some customers need a plumber, it is difficult to find instantly who can solve the problems which arise. At this period, it comes with an on-demand plumber app to start out the problem. Nowadays, everyone is using the internet when nothing is working out. If you are looking for a plumbing business, then it is the best way to develop a plumber app. There are various advantages to developing apps. The app is accessible to the users 24x7x365 days and gets all the best needs services at your doorsteps.
Also A Good Read: Features & Cost For Developing Doctor Prescription Reader App – (Prescribe Anytime Anywhere)
Recently due to the CORONAVirus, various people have suffered a lot and identified that plumbers are also essential infrastructure workers. However, it is necessary for the whole world to develop the plumber app.
Plumbing services help to get the right plumber with the customer. If customers register to the app, he/she gets various services offered as per the time and convenience of the customers. This is not helpful to the customers but also the plumber who is not getting the right job or working on time. Whenever at any time anyone needs plumber services now, it becomes easy to find a plumber by going through the plumber.
Advantages of developing a Plumber app:- There are many best advantages associated with developing a plumber app that can help both business and customers.
Flexible:- This kind of app provides flexibility to the customers who can hire plumbers at any time from their nearest locations.
Profitable to the plumber:- This is one of the best platforms where the plumber can easily register and get lots of jobs and work.
Saves time and effort:- The plumber app saves lots of time and effort for customers as they do not have to run here and there for plumbers only with fingers click they can get best services at doors steps. Customers have to register themselves on the app and book the services at any time and anywhere.
Easy customer engagement:- Plumber app is a simple and easy process for registered plumbers and their customers. With the help of a few steps, the customers can complete the registration; they do not have to browse for a contractor or any plumbing organization, then call back, and so forth.
Easy Market Entrance:- You are able to expand your customer base with the help of these plumber apps.
Working of Plumber App:- There are various easy steps to go with this plumber app which is highly beneficial, saving lots of time.
Also A Good Read: Packers and Movers App Development – Features & Cost
The first thing is that plumber customers have generated their profiles by adding their basic information and verifying their accounts.
After this process, you will enter the app where you find various services available with all details like experience, rates, or packages.
The customers require the best plumber for any services, then they find the best plumber for the nearby available plumbers and hire them.
After the plumber will see the request by various customers and can accept/decline the request. Sometimes the plumber declines also because of not being available for that day.
After accepting the request from the customers, both plumbers and customers can chat via chat module in-app only.
The plumber can also go through a real-time tracking option in an app where plumbers can find or get the exact idea of how much time it takes to reach a customer destination.
After completing the work, the customer can easily make online payments like credit/debit card, net banking much more or can also do cash payments.
Customers can also give the best feedback or rating to the plumbers.
Also A Good Read: Get the best on-demand electrician app to bring up your business
Features of developing plumber app:
Admin Panel:-
Dashboard management:- Dashboard management is the highest control center of the whole app. In this feature, the admin can take any action and be controlled and tracked. It can easily access the dashboard for maximum results.
Plumber/User profile management:- Admin can manage aspects of management like availability of the plumber, booking of the users, various payment methods to manage from both plumber, customer and can manage all various important aspects to it.
Manage Review/ Ratings:- Admin manages all the reviews/ ratings given by the customer to the various plumbers. According to that rating, the admin decided, and proper guidelines are given to the plumbers for the future and other services.
Payment management:- Plumber app development highly integrates secure payment gateways which are highly managed by the admin part. Various payment gateway is integrated like debit /credit card, cash, and other net banking's services.
Manage Notifications:- This is one of the important features to share alerts on the payment confirmation, booking confirmation, discount offers, various services requests, and much more. This is highly helpful for you to build a strong relationships with your users.
Plumber Panel:- Plumbers app allows connecting with the customers in real-time. This application is highly helpful to the plumber to expand their business.
Plumber login sign-in / Sign up:- Plumber registers into the app with all details with email and other contact details. Sign in can also be done through various other emails or utilizing social network credentials directly.
Create Profile:- The plumber can generate a profile with all information like profile picture, address, plumber specialists, and many more. Once the profile is created, he/she can edit, add all personal information.
View payment details:- After delivery best services, the professionals/ plumbers view the payment details, which are credited to their accounts.
In-app chat module:- One of the best features is the chat module where the customers and plumber can easily communicate through chat or a call. Customer review:- After the whole process or services are completed then the plumber will provide a review for the customers.
Accept or reject appointment:- Sometimes it happens that plumbers are busy with other schedules or some other things so that time the plumber either accepts the request for services or rejects and if the plumber accepts the request, then the app showcases customer location and all contact information.
Real-Time Tracking:- The plumber can easily track the address and find that how much time or distance is taken to reach the customer's destination.
Also A Good Read: Real Estate Portal Development – What Are The Benefits Of Estate Portal
Customer Panel:-
Login/ Registration:- Customers can easily do the registration with their email id or contact information, or another way they can also log with other social media sites like Facebook, Instagram much more.
Payment option:- With these best features, the customer can get the exact idea at the time of hiring a plumber and can also choose various options to do payment for services. The payment can be made through various ways like a credit card, debit card, or other net banking.
Service booking appointment:- Customers can either book the best plumber for the service or and can also book an appointment at a later time and date.
Give feedback:- When the whole services get from the professional plumber, the customer has the best chance to give feedback and the overall experience of the plumber. So that some improvement is needed further which helps it for the plumber (if necessary).
Cancel Booking:- Sometimes it happens that the customer needs to go outside in an emergency or other reasons at that the customers can cancel the booking in the app and can reschedule it after some time if the customer needs.
Select the best plumber:- Customers can select the best plumber by viewing plumber details, including the name, rating, cost of services, and others. Real-Time Tracking:- After services are accepted by the plumbers, customers can track their movement and can guide them about the locations where exactly it is located.
In-App Chat/call:- Customers and plumbers can communicate with each other through the app chat/call features. Also A Good Read: Pregnancy Tracker App: The Best Technological Help You Can Have
Why do you need to develop a plumber app?
The plumber app is not only useful to the plumber but also helpful to each and every one in today's life. It is one type of Uber-like app where you can select the best plumber for your requirement. This app allows you to connect various plumbers of your city or outside with only registered customers and looking for the best plumbing services without any predefined area.
Increase business stability:- You needn't bother with any set up or area to store stock. This allows you to associate with numerous plumbers in your locality or outside who are effectively searching for plumbing administrations with practically no predefined region.
Reach at Customers effectively and efficiently:- With a plumber application, you are permitting your customers to get on-request handyman administrations according to their necessities. The app which helps you with various advantages and it also saves lots of time, and allows customers to contact you.
The cost of Plumber App Development:- Not only one app but every app have its own functionality. As the cost of the plumber app development depends upon the various factors. The plumber service highly depends upon the number of hours that are ready to go into developing it. The Plumber app development depends upon 3 panels like Admin panel, Customer panel, plumber panel.
These 3 panels have their own features, so the cost of the development also includes its features and functionality. The cost of on-demand plumber app development depends upon its platforms to be developed, the technology which is utilized, and various other things. So, not to wait, share all your requirements with us for an exact app development for plumber services.
Why to Choose us:- Highly qualified experience expert having best knowledge about the latest advanced technology which help in developing a plumber app. Our expert team has been involved in developing a plumber app for various years, which helps in getting bug free and innovative solutions.
Highly professional developers
24/7 support
High Advanced Tech and features
Native iOS and Android Apps
Free Bug support
Cost transparency
Wrapping up:-
The plumber apps have now very much popular among various plumbers and users because they get many advantages from using this application. The apps help plumbers to scale their business by only registering with these apps. As new trends are highly on demand for all-day bug-free today requirements, there are many apps and services available in the market. We are the best pioneer in providing the best end-to-end demand solutions highly qualified experts who work closely with your needs to launch. So, don't wait to get in touch with plumber mobile app development experts to build highly demanded plumber apps.